Learning A Few New Tricks – Be Bali Day Cooking Class – Bali, Indonesia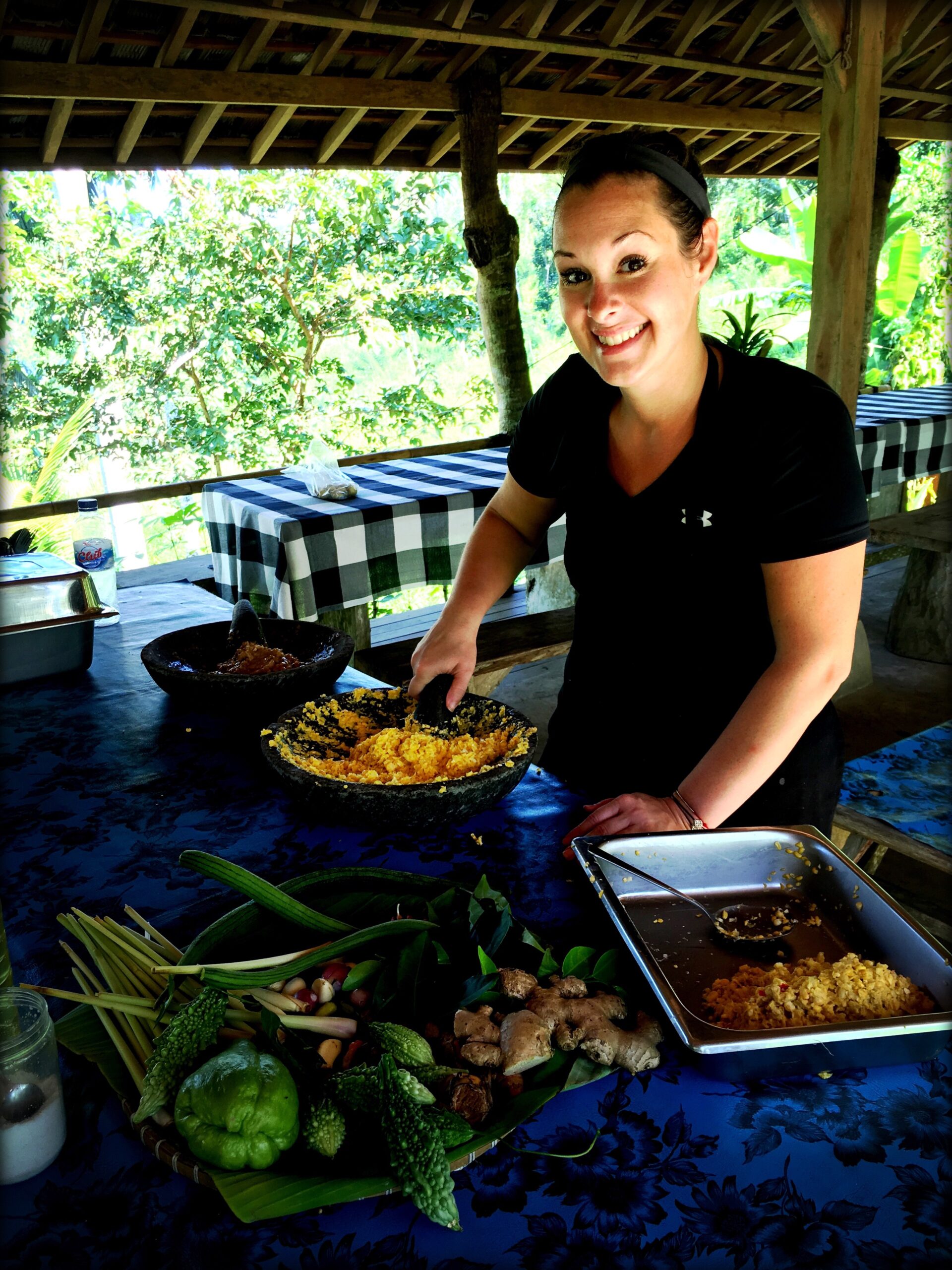 We've had the same thing for breakfast every morning in Bali: nasi goreng, or the most delicious plate of fried rice ever. This isn't your typical Chinese takeout fried rice. It's seasoned with sweet soy sauce, tamarind, chili pepper, shallots, garlic, and a plethora of other spices. It's then topped with a fried egg, fried shallots for a crunch, a salad of pickled vegetables, and served with shrimp crackers (which aren't as gross as they sound). Some restaurants make it fancy – Kevin's favorite version also included a prawn, a piece of fried chicken, chicken satay with a really tasty peanut sauce, and a spicy chili soy glaze that had a serious kick. It was this meal that convinced us to take a Balinese cooking class. Although the suckling pig and some roadside dessert (we wish we knew what it was called!) may have also had an influence.
We signed up for a cooking class with a local farming family in Ubud. It was a small, family-run operation that seemed to be a change of pace from the standard large group classes. It worked out well…we were the only two people in the class. The day started with a trip to the market, then to the family's traditional Balinese home. It was neat to finally see inside one of these homes. From the outside, they look like temples. They're really compounds that follow strict ancient architectural guidelines which is a blend of Hindu and Buddhist beliefs. The houses are built to be in harmony with law of the cosmos in Balinese Hinduism. They're surrounded by walls and contain family temples with shrines dedicated to their ancestors. It's too much to go into here, but it's a very interesting read on Wikipedia. It was also very interesting to see and hear about firsthand from a Balinese family. We were surprised to learn that a typical compound will house an entire extended family!
After touring the compound, we walked around the farm, visiting with the chickens, ducks, pigs, and cows, while picking fresh herbs and vegetables to use in the class. We ended with a tour of the family's private rice terraces before making our way to the outdoor kitchen that overlooked a small fish pond. It was beautiful and definitely picturesque. But it was hot! 90 degrees Fahrenheit with 84% humidity, cooking next to a wood burning stove…we needed a minute and some cold water to cool down before we got started.
We spent the rest of the morning helping to prep and cook enough food for a small army! We made corn fritters, chicken satay, steamed minced pork, green salad with coconut dressing, chicken soup, two types of stir fried eggplant, sweet potato rice and fried bananas. Aside from the corn fritters and fried bananas, we're not sure how many of these dishes we'll be able to make at home. We don't think we'll be able to find some of those vegetables and spices in that bowl on the table in the picture. But we will start utilizing the traditional Balinese spice mixture that we learned about. We also learned some new cooking techniques that will come in handy once we have a kitchen again…let's just say that we've never been able to make any type of fritter that didn't dissolve once we dropped it into a pot of oil, until today. Christine also tried a tomato sambal sauce that she just loved. That wasn't part of the cooking class, but we got the basic recipe, we'll have to figure proportions out at home!
All in all, it was a fun and educational day. We planned to visit the Ubud Monkey Forest after the class, but a combination of the heat, the food, and fatigue from trekking did a number on us. We ended up retiring to the air conditioning for the rest of the afternoon while waiting for our food coma to subside.