Up Early For A Morning Of Culture – Wat Phra That Doi Suthep – Chiang Mai, Thailand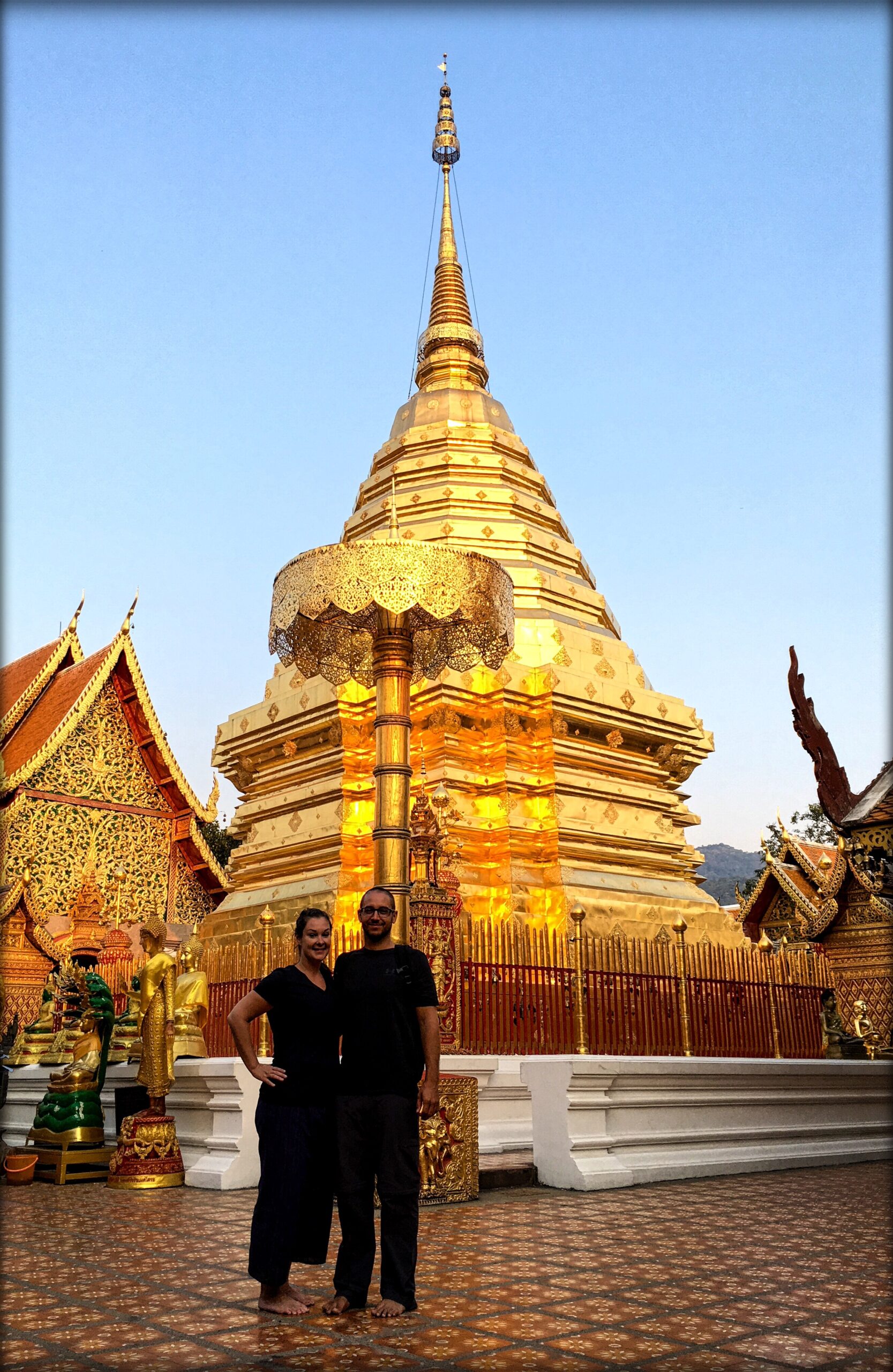 It's official – Songkran is over! We're excited to finally be able to explore Chiang Mai without getting buckets of water dumped on us on every block. Being here for Songkran was entirely coincidental, but we're glad it happened because it's ranked in the top three moments of this trip to date. Our remaining time in Chiang Mai is limited and there's so much to do, so we scheduled an early morning of sightseeing around the area to catch up.
We hired a guide, Tong, to take us to some temples outside of the city. Tong picked us up at 5:30, and took us to the Doi Suthep temple for the sunrise. They say you haven't officially been to Chiang Mai until you've visited Doi Suthep. It's a stunning 600+ year old temple that sits on top of the Doi Suthep mountain, with views overlooking Chiang Mai. This is one of Thailand's most sacred temples. The vault in that big golden pagoda is said to hold relics from Buddha himself, passed from India to Sri Lanka to Chiang Mai.
The views of the city were a little hazy due to it being both the dry season and the time of year when many farmers in the north are burning off their rice fields. We weren't sure if we'd actually see a sun rise, but we were wrong – even through the haze, the big red glowing sun could be seen clear as day. Waking up at 4:45 on the day after a New Years celebration isn't at the top of many peoples to-do lists, so we practically had the place to ourselves.
Afterwards, Tong arranged for us to participate in a few activities at the temple that made the whole experience really cool. First, we went inside the temple and were given a blessing from one of the older monks. We kneeled in front of him, and he said a prayer for us while holy water on us. He then tied a white string bracelet around each of our wrists to bring us good luck. We also participated in the daily morning alms ritual, where non-monks come to the temple to provide the monks with food and other donations. Thai monks depend entirely on alms for their daily food, which is pretty amazing. What's even more amazing is that they only eat twice in the morning, and then fast for the remainder of the day and night. At 7:00, the monks exit the monasteries and walk around with bowls to accept donations. We each had to approach a monk and place our food donation into their bowl. It was hard to not feel a little out of place, not being Buddhists and participating in this ritual within a small crowd of normal Thai folks, but it made for a once in a lifetime experience.
By this time, we were pretty hungry ourselves, so Tong took us to a food stall by the temple for some TFC – a little pun on KFC that he made up. That's right, our breakfast was a drumstick of freshly fried chicken paired with some sticky rice and chili paste. You know how greasy food hits the spot after a night of drinking? Well, we May have had a few Changs during Songkran, and that chicken and rice hit the spot.
From there we moved on to another temple down the hill called Wat Pha Lat, or the hidden temple. This temple gets its name because it's over 1,000 years old and was abandoned for quite some time before being rediscovered. It is home to a few monks today, but is much more modest than Doi Suthep, and goes unseen by most tourists. Once again, we had the place to ourselves. Tong told us that during the wet season this temple becomes surrounded by streams and waterfalls, which sounds awesome, but unfortunately we're in the heat of the dry season. It was still a very peaceful place that had a "middle of the jungle" vibe. This was definitely our favorite temple of the day.
Our third and final temple for the morning was Wat Umong, or the tunnel temple. This is another modest, but interesting temple that is over 700 years old. This one gets its name from the small system of underground tunnels that are part of the original temple. Within the tunnels are several little coves with Buddha statues for prayer and meditation. Outside, there's a large garden of broken Buddha statues – or in some cases, just pieces of Buddha statues, like a head. It's bad luck to throw away a Buddha, so this garden has become a new home for damaged statues.
There are over 300 temples in Chiang Mai. We've visited three… this is just the tip of the iceberg. Chiang Mai is an awesome place for Thai culture.
And in other news, Christine has officially embraced the hippy traveler lifestyle. She picked up a pair of Thai fisherman pants yesterday at the market, and has been wearing them ever since. Now we just need to get Kevin a pair!