I Cooked With Poo, And I Liked It – Khlong Toei – Bangkok, Thailand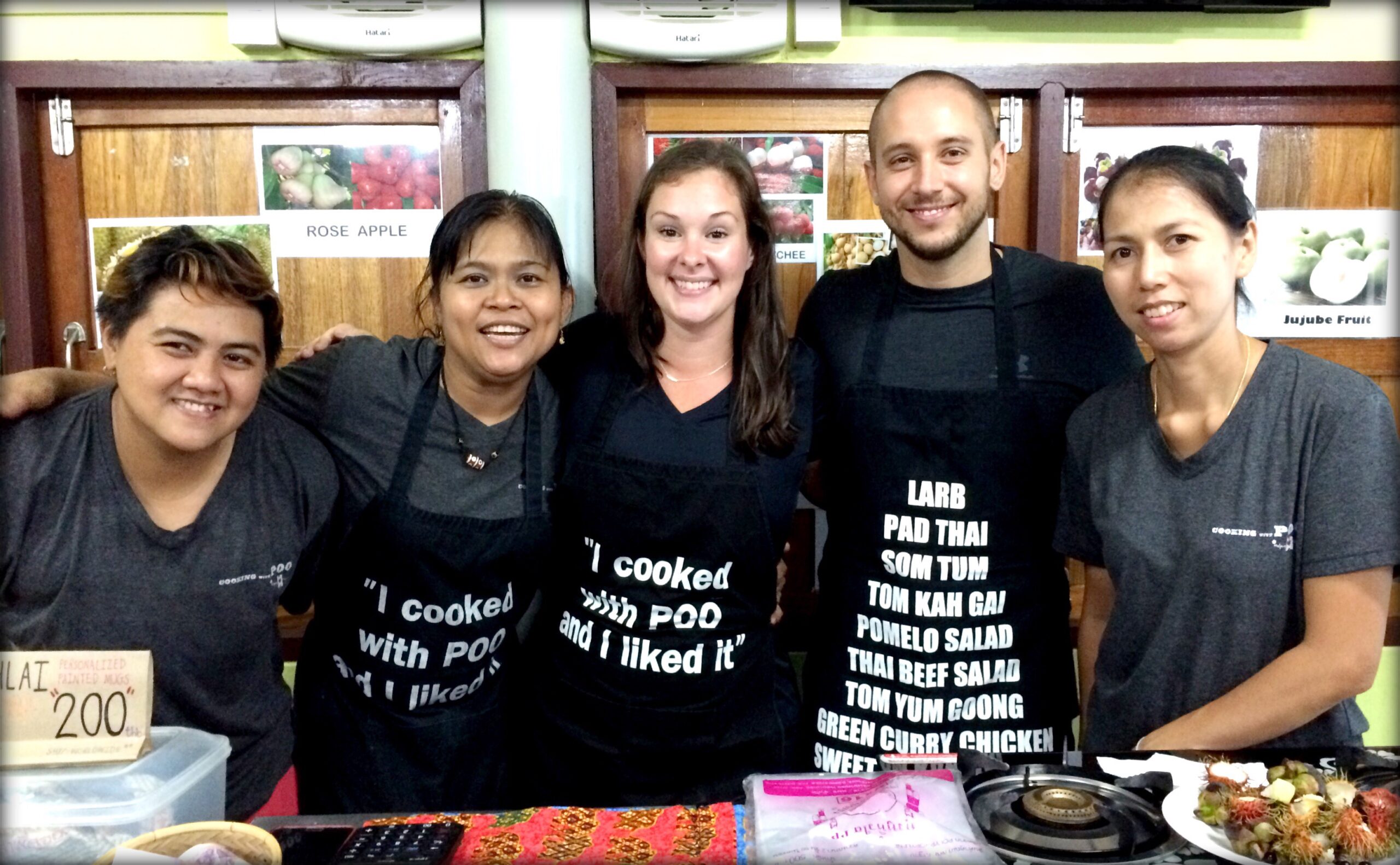 After a long, hot week at the Elephant Nature Park followed by a recovery day in Chiang Mai, we're back where we started in Bangkok for our last few days in Thailand. It doesn't feel like we've been here an entire month, but we have!
Thai is one of our favorite cuisines. It's hard to find great Thai food consistently at home, and we've always been hesitant to try to make it ourselves. A cooking class in Thailand would be the perfect way for us to expand our cooking knowledge. It only took a few minutes of research on classes in Bangkok for "Cooking with Poo and Friends" to show up. The search ended there. How often do you get to cook with poo? Hopefully only when you're in Bangkok.
The class started with a stroll through the Khlong Thoei market, the largest wet market in Bangkok. This area is considered the slums of Bangkok, and it's not a place where you see many tourists. We've written about Asian wet markets before; they test what your senses can tolerate, and this one was no exception. There was an abundance of fresh, pungent durian. Pigs were sawed in half, lying on a table waiting to be purchased. Some tables only had the head, tail, or feet left. There was a section with insects…for consumption. There were skinned frogs, with the skin tied up next to the frog. Occasionally one of the frogs skins would twitch. And then there were the usual suspects: animal parts, fish, eel, crabs, chickens, vegetables, fruits, and everything in between. We stopped at a few of the stalls to buy ingredients (thankfully none of the gross stuff), then went for a ride into the slums of Khlong Thoei to Poo's kitchen for the class itself.
We learned how to cook two of our favorite Thai dishes, as well as one new favorite. First up was a spicy beef salad – we opted to be vegetarians so we made a spicy mushroom salad instead. It was so good that it had Christine eating mushrooms. Next up was Kevin's favorite, pad thai, which was about as good as it would be from a street stall. The final dish was Christine's favorite, green curry. We made the curry paste from scratch, then turned it into a bowl of deliciousness. For dessert, there were samplers of an assortment of Thai fruits, and mango with sticky rice. We're really going to miss the mango with sticky rice when we leave.
There's a big disclaimer for the cooking class saying that Poo isn't present for every single session and that she occasionally deserves a day off. Someone must have really complained. We lucked out and got to cook WITH Poo! She's a funny chef who kept the class informative. If you've never seen Poo before, she's standing next to Christine…she's the one on the left.
Cooking with Poo helped us realize how simple Thai food is. We might have to do some hunting for ingredients back home, but look out for a Thai dinner party coming this fall!