Temple Run, Day Two – Baksei Chamkrong – Siem Reap, Cambodia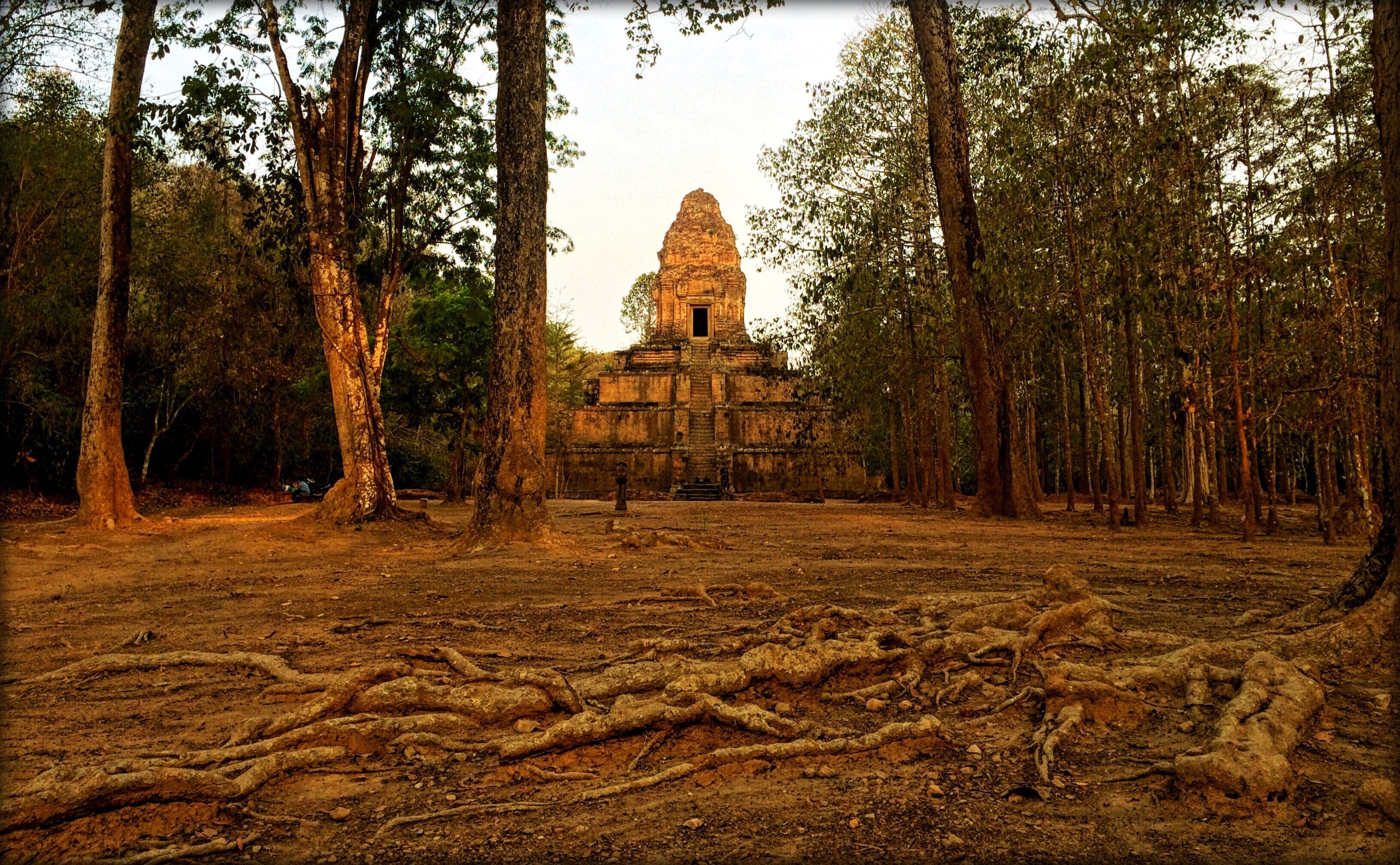 Day two of tour de temples started bright and early at 5 am. Even though we saw Angkor Wat yesterday, our first stop was back there to see the sun rise from behind the temple. It's one of those "Kodak moments" that hundreds of people swarm Angkor Wat every morning to see. Instead of fighting the crowds for the best spot, we took the opportunity to go back inside the temple. This time we were there right when it opened, which meant far fewer people. We were able to get some better pictures – ones where we wouldn't have to crop out hoards of people. And by the time we got back outside, we were there just in time to see the sun rise over Angkor Wat's iconic triple towers!
Our next stop of the day was at Baksei Chamkrong, that lonely temple in the picture, that most people drive past, but few stop at. There are many temples like this – ones you drive past and admire from the road as you continue on. With almost 300 temples in the area, it's impossible to see them all. This one stuck out to us, so we decided to stop. It's a small pyramid shaped temple that was built in 948 AD, and it's the only pyramid shaped temple in Cambodia from this time. The temple used to have an accompanying wall and pavilion, but those have both been destroyed. We enjoyed our time here, climbing up the stairs to see what was hiding inside (FYI, dead bats and a reclining Buddha statue). Aside from the guard, we were the only ones here, which provided an added sense of adventure, as if we had stumbled upon something new.
We continued on through the Angkor Thom complex, checking out the Terrace of the Elephants, the Baphuon temple, the Suor Prat towers, and then finally the very popular Ta Prohm, a.k.a. the temple from Tomb Raider. This temple is truly unique. Unlike most in the area, this one is in much of the same condition in which it was found; minimal restoration has been done. The temple has become one with nature and has essentially merged with the jungle. Massive trees are growing on top of and through the rocks, leaving huge exposed roots that grab onto the stone structures like hands trying to crush what's left of the temple.
By 10 am, we were done. The heat had officially won; we were exhausted. Our clothes were soaked and we were ready for a nap. Sokhom took us back to our hotel, where we promptly passed out under the heavenly breeze of the air conditioner.