It's Past Our Bedtime – Liuhe Night Market – Kaohsiung, Taiwan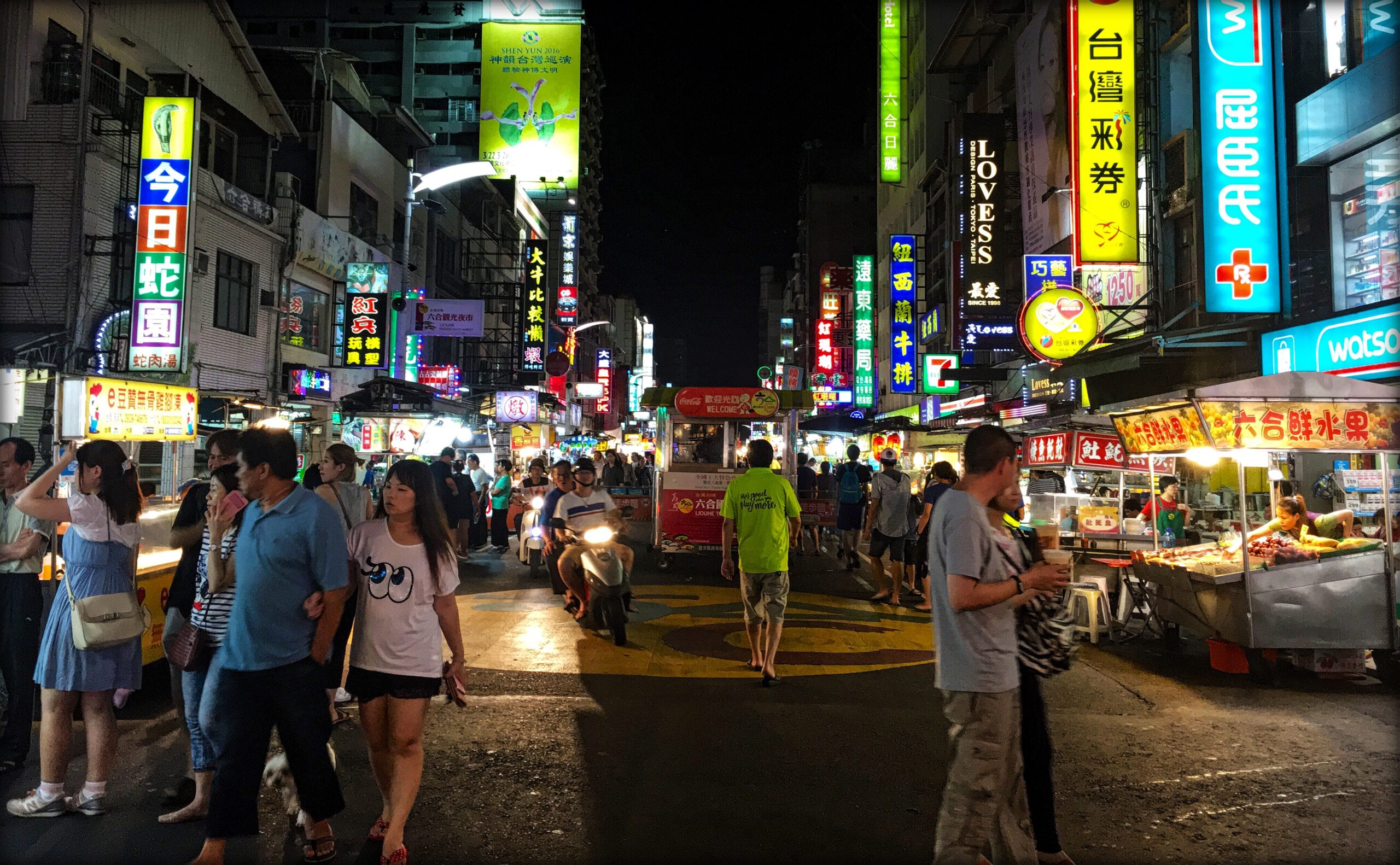 Goodbye Southeast Asia, hello East Asia. While sorting through our Angkor Wat pictures, we've been in transit – catching a long flight to Taipei, then a high speed train to Kaohsiung, a port city in southern Taiwan.
Leading up to Taiwan, Kevin kept talking about the food at the night markets. Taiwan has a big night market culture, where a variety of street foods ranging from tasty to creative to inedible (for us, at least) can be found. We're usually morning people, but we're going to be switching our schedule up to hit the night markets while we're here. Kevin was excited to get to Kaohsiung so we could go find his favorite street food – sausage…a little sausage inside of a big sausage, to be exact. There has to be a joke in there somewhere. On our first night here, we went out on a hunt for this absurd, but apparently delicious, local creation.
Two blocks down the street from our hotel is the Liuhe Night Market, one of the most popular night markets in Kaoshiung. Wikipedia says it's known for food, seafood, crafts, clothing, knives, cameras and live animals. Quite a variety. By day, Liuhe is just another street buzzing with cars and motorbikes, but once the sun goes down it turns into a pedestrian (and the occasional motorbike, because why not?) only gauntlet of hawker stalls. Not wanting to be the first ones there, we started with some drinks at our hotel (Christine wanted a bit of liquid courage) and then set out. It didn't take us long to find what Kevin was talking about.
Little sausage in big sausage basically looks like a hotdog in a bun, except that it's a Chinese sausage inside of a glutinous rice "sausage" bun. Christine was a bit confused too…it's not exactly sausage inside of sausage – semantics. Regardless, Kevin loved every minute of his sausage eating. We were able to find Christine some more normal options, like fried mushrooms, grilled corn, a very tasty potato and cheese bun, and some papaya milk to wash it all down. There were a lot of options that we skipped over, but we'll be back for more another night!