Last But Not Least – Bodegas Martinez De Cañas – Logroño, Spain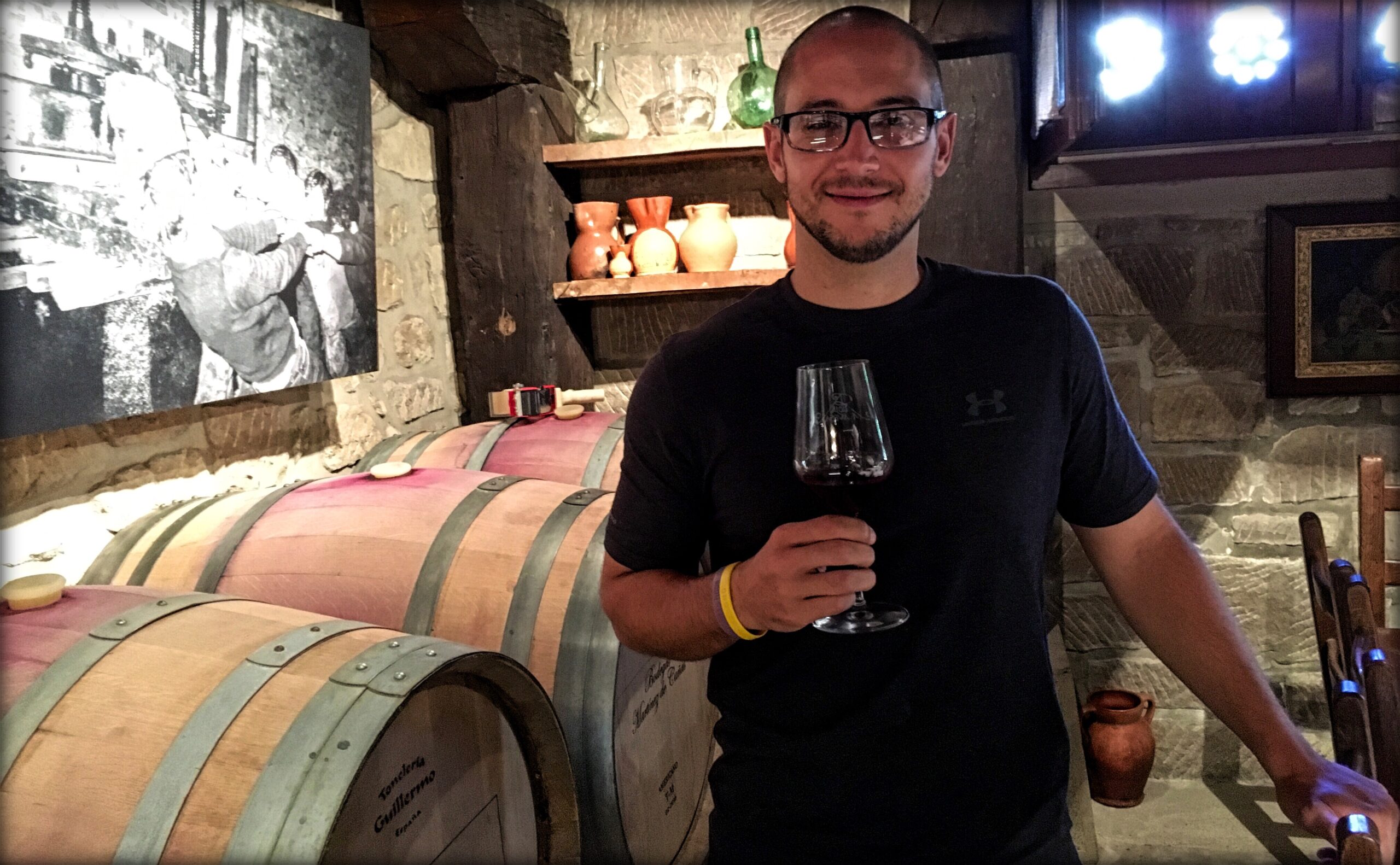 Our last stop in Spain was in La Rioja, a region known for the wine of the same name. We love wine, but haven't had much Rioja at home. Perhaps we were missing out on something? There was only one way to find out. We booked a day tour with a local guide that specializes in wine and culture to show us as much of Rioja as possible in one very long day.
Our guide David picked us up bright and early at 9am (…this is early for Spain). We started out by going straight into the heart of Rioja's "golden mile" – a fertile stretch of the valley with vineyards as far as you can see. We made a stop at a small, one man shop wine producer in the golden mile called Bodegas Martinez De Cañas. There we took a tour of the facility, where Francisco, the owner and winemaker, has been producing just six barrels (about 1200 bottles) of wine the "old school" way since 1985. The "old school" way is to mash the stems and leaves along with the grapes, which results in a more complex flavor. Francisco's wine cellar is meticulously organized with individually wrapped wine bottles (to protect the label), stacked by year. We sat in his tasting room, where the six barrels were currently aging last year's wine, and opened a bottle from his favorite year – 1989. This wine was almost as old as us…and it was awesome. Very mellow, and very unique. The picture is of Kevin enjoying his glass, thinking about how he could nip a sip from one of those barrels behind him.
Next, we stopped at a larger, state run winery to sit outside by the vineyards and sample a few traditional Rioja wines, while learning about the different types. All the wine was making us pretty hungry, so we headed to David's village to have a fancy lunch…with more wine, of course. After lunch, it was time for a break from the wine. We switched things up and went on a castle tour, seeing three different castles in three different small, hilltop villages within the valley. The first two were pretty standard castles…look, we're officially castled out. But the third castle was something special!
The Castillo de Davalillo was abandoned by its previous owner and has deteriorated. It's not a tourist attraction, so we were able to drive up, park, take the 10 minute walk up to the castle, and have the place to ourselves. It was a peculiar castle…all that remained was four walls and a big tower, with no way to get up into the tower. By now, you should know where this story is headed. We spent about 30 minutes there while Kevin analyzed every square foot of the inside and outside. There had to be a way up. He eventually figured it out – one corner had some grooves big enough to accommodate a barefoot climb about 15 feet up the wall. With Christine's encouragement, he was up in no time, wandering around the top of castle wall. David said it was a first that someone made it up top, so the castle was officially ours when we return to Spain.
We ended the day with a visit to one of Rioja's many elaborate bodegas – Marques de Riscal. It's as if the wineries are in a competition to see who can build the most ridiculous looking facility. This one had a nice outdoor terrace, where we kicked back with one more glass of the good stuff.