Puesta De Sol – Calle La Calzada – Granada, Nicaragua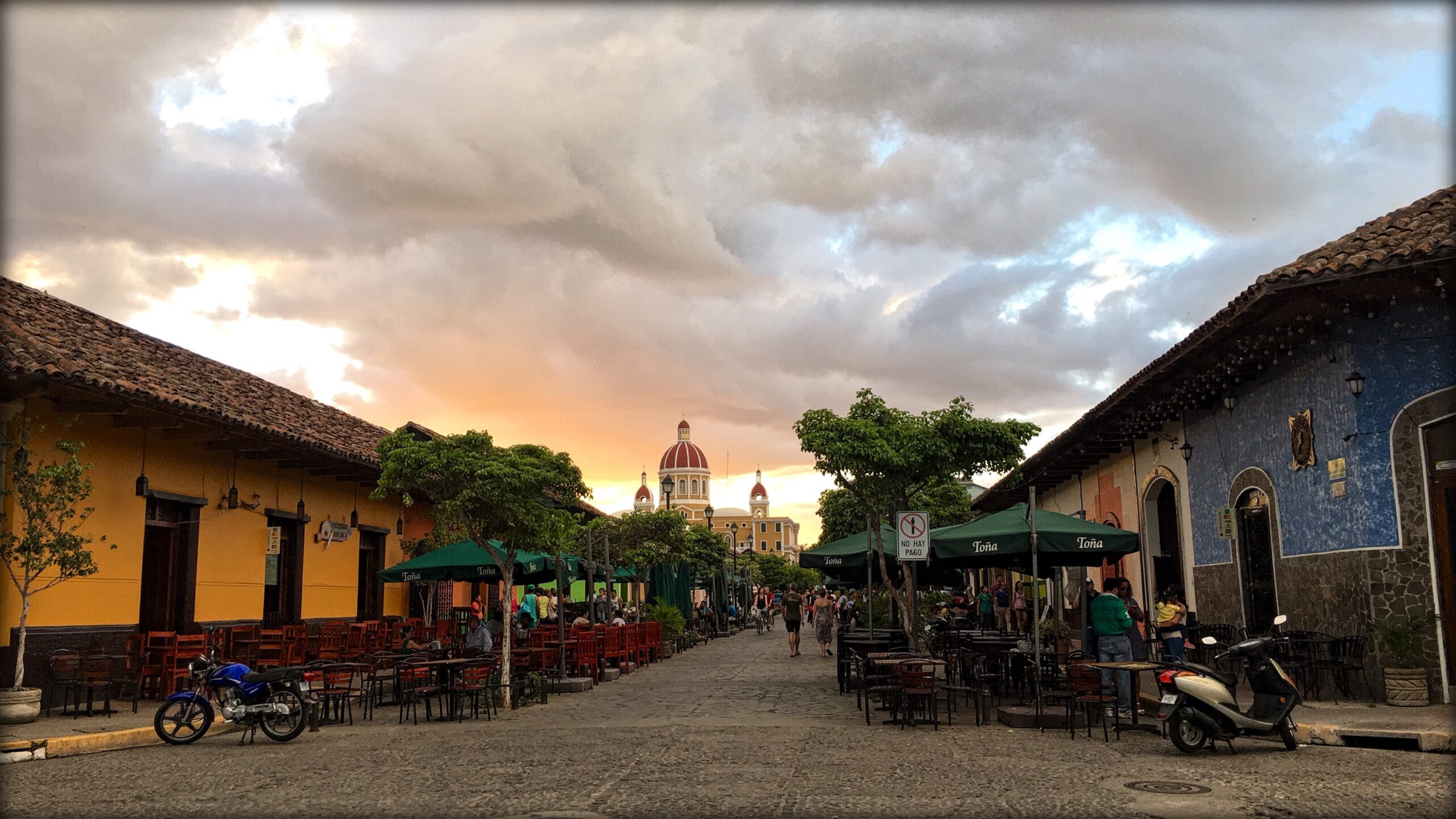 Hola! We've made it to our first destination: Granada, Nicaragua. Granada is one of the oldest colonial settlements in Central America. It's a beautiful little town full of history and architecture, situated on the bank of Lake Nicaragua and at the foot of the Mombacho volcano.
Our journey into Granada was an interesting one. We landed in Managua around 9pm. As we exited into the public part of the airport terminal, we saw something very strange. Every square inch of window had people lined up on the outside, staring in. We had no idea why. Did they want to get in? Were they looking for unsuspecting turistas to kidnap? We were supposed to meet a driver who would take us to Granada… was one of these people our driver?
We eventually found him, and started the slow journey to Granada. The quality of the roads in Nicaragua is not so bueno, and when combined with the occasional roaming dog or person made for very slow transit. Along the way, Christine practiced her Espagnol with the driver, while Kevin asked about the local beers. Our driver advised that Toña was the beer of choice.
We made it to our casa around midnight, where Rob, our Canadian transplant host, opened the gated doors and let us in. We proceeded to pass out immediately… only to wake up a few hours later to what we thought for sure were gunshots. This was Central America after all. Nope… the people of Granada simply like to start each morning with an early celebration involving fireworks.
We hit the town for a lazy day of walking and sightseeing. When the sun goes down, all paths seem to lead to Calle La Calzada – a hot spot of restaurants serving up some seriously tasty food. The view isn't too shabby either!