Cooking With Friends – Hoa Tuc – Saigon, Vietnam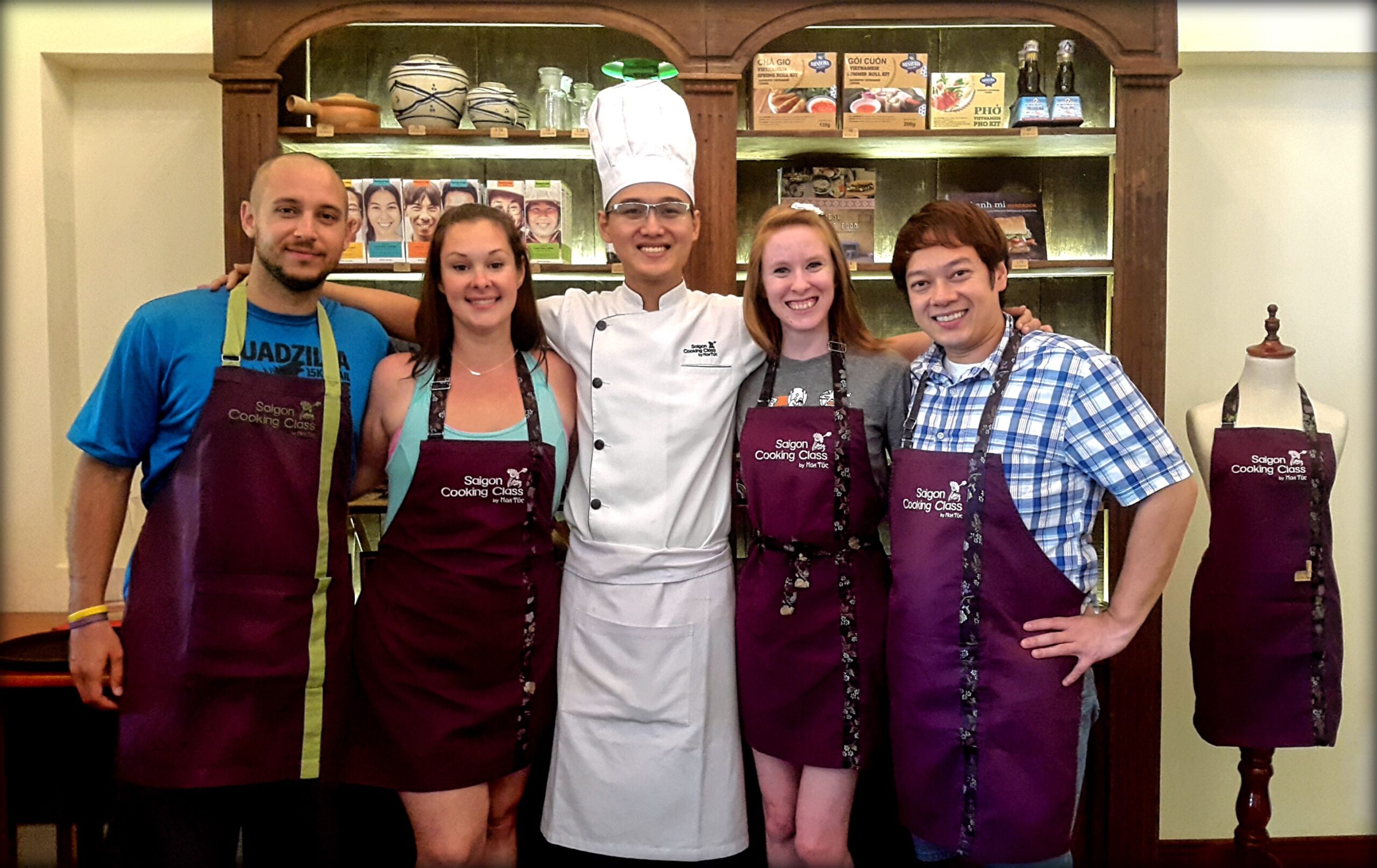 As we've mentioned before, one thing we want to accomplish on this adventure is to learn how to cook authentic international dishes. We want to return home with a stack of new recipes in our back pockets to whip up for our friends and family during one of our many dinner parties (Christine lives for hosting dinner parties; she's been jotting down ideas in her little notebook since Nicaragua).
The first few days of our time in Saigon was a planned reunion with Kevin's good friend Josh and his girlfriend Erika, fellow international foodies who have been living, working, and traveling in Asia for the last few years. We decided that in addition to eating our way around the city (which has been interesting…more on that in a future post), we would take a cooking class as well. We signed up for a hands-on group class where we would get to make 3 traditional Vietnamese dishes. Since the lunar new year is still being celebrated here, many stalls in the markets are closed, making it difficult to get ingredients. Because of that, we stuck to basic recipes with simple ingredients, which for us, was perfect. We used ingredients that would be fairly easy to find in the US, which means the recipes will be easy to duplicate back home.
We met Chef Khang at the Ben Thanh Market, where he showed us around and bought some ingredients, pointing out a few foods that would be uncommon to us. Like the "eggs" that are taken directly out of the chicken, before they've actually formed a shell and become the eggs that we would recognize…they looked like orange cherry tomatoes. There was also a lot of live seafood, everything from soft shell crabs to the biggest prawns we've ever seen. He said the Vietnamese like to see their food alive first because then they know it's fresh. Apparently they used to kill farm animals right in the market, but that has since been outlawed by the government. Thank goodness. There were even live rats…not for sale, just wandering the floor of the market, stealing shrimp heads…but hey, this IS the third world.
After our market tour, we returned to the school for the cooking part of the day. We've been without a real kitchen for about a month and a half now, so holding a knife and slicing and dicing vegetables felt so good! All of the dishes we made were fantastic and will definitely be duplicated when we return home. Chef Khang was very entertaining and made the class fun and educational. We got a group photo with him afterwards to remember the experience.
Here's the menu for our Vietnamese dinner party, who's bringing the wine?!
-Fried spring roll with pork, mushroom and glass noodles. Nuoc Mam dipping sauce.
-Green Mango and "Cang Cua" salad with baby spinach and marinated BBQ chicken with sate.
-Fried rice with lotus seeds, prawn, chicken, carrot and green pea folded in a fresh lotus leaf.