A Symphony In A Sandwich – Banh Mi Phuong – Hoi An, Vietnam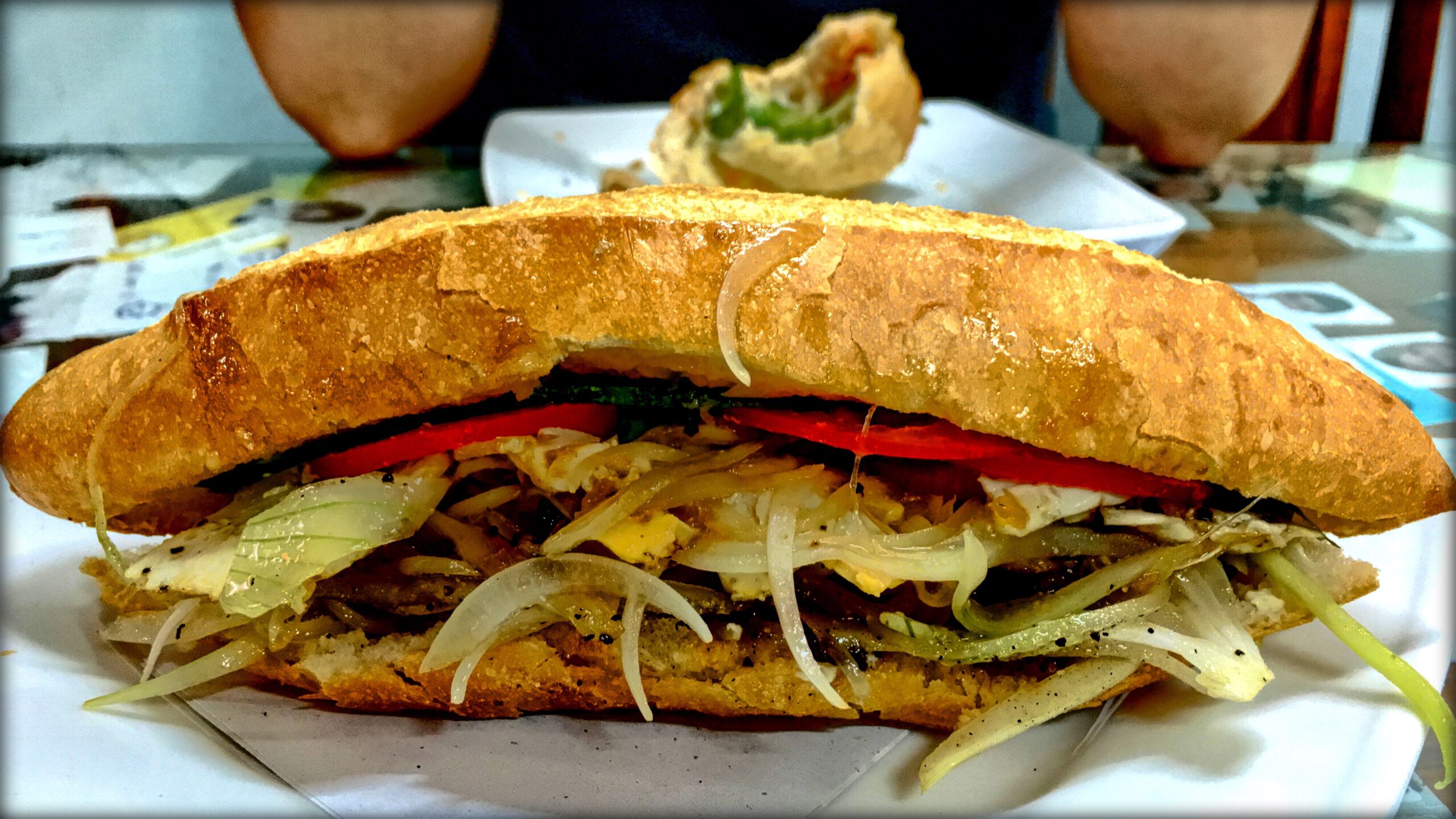 The French influence on Vietnamese food is subtle. With so many bowls of noodles around here, often called vermicelli, you'd think that it was Italy that had colonized the country. And then there's banh mi.
Banh mi is a Vietnamese term that literally means bread, specifically a Wawa shorti sized baguette that is unlike any baguette we've ever had. The crust is thin and crispy like a baguette should be, but the inside is super light and airy. It's the perfect bread for sandwich making, and that's exactly what it's used for. Because its use is so ubiquitous, the term banh mi also means a sandwich made from that baguette that shares its name.
We'd heard of banh mi prior to being in Vietnam, but had never come across anything claiming to be authentic. And who needs banh mi when there's Primo? When we got to Saigon, we quickly noticed that there was a banh mi stand on just about every block. If it was this common, we had to try it. And try it we did…once a day, sometimes twice. The classic banh mi is a mishmash of flavors and textures. There's the baguette, split in half. A smear of mayo goes one on side, and a smear of pate on the other. Then a spoonful of secret sauce. Then thin slices of pork belly and/or chicken. Some pickled vegetables, and fresh cilantro, cucumber, and tomato. Chili sauce if you need heat, and a fried egg if you're fancy. To be honest, it doesn't really sound that good…until you bite into it, and all of those flavors and textures hit you at once. If you ever find yourself within a 50 mile radius of something that claims to be a true banh mi, you have to try it.
After a week of banh mi in Saigon, we were ready for a break. As we were making our way to Hoi An, we started to research what we could try here. It was then that we learned that Hoi An is home to "the best banh mi in the world", as declared by Anthony Bourdain when he filmed an episode of No Reservations here a few years ago. Looks like we were in for one more sandwich.
We made the pilgrimage to Banh Mi Phuong, which was reminiscent of a Pats or Genos back home. It's an outdoor stand with a line of 4-5 sandwich artists methodically cranking out banh mi, a few big bright signs showcasing the menu (and Anthony Bourdain), and a line of locals and tourists waiting to order and pay. We ordered up two, one classic pork belly and one vegetarian. Was it the best banh mi in the world? The banh mi in Saigon had nothing on these. It was like having an Italian sandwich in South Philly for the first time. And it only costs 90 cents. Thank you Anthony Bourdain.