Get The Bottle Open For Free!!! – Lac Thien – Hue, Vietnam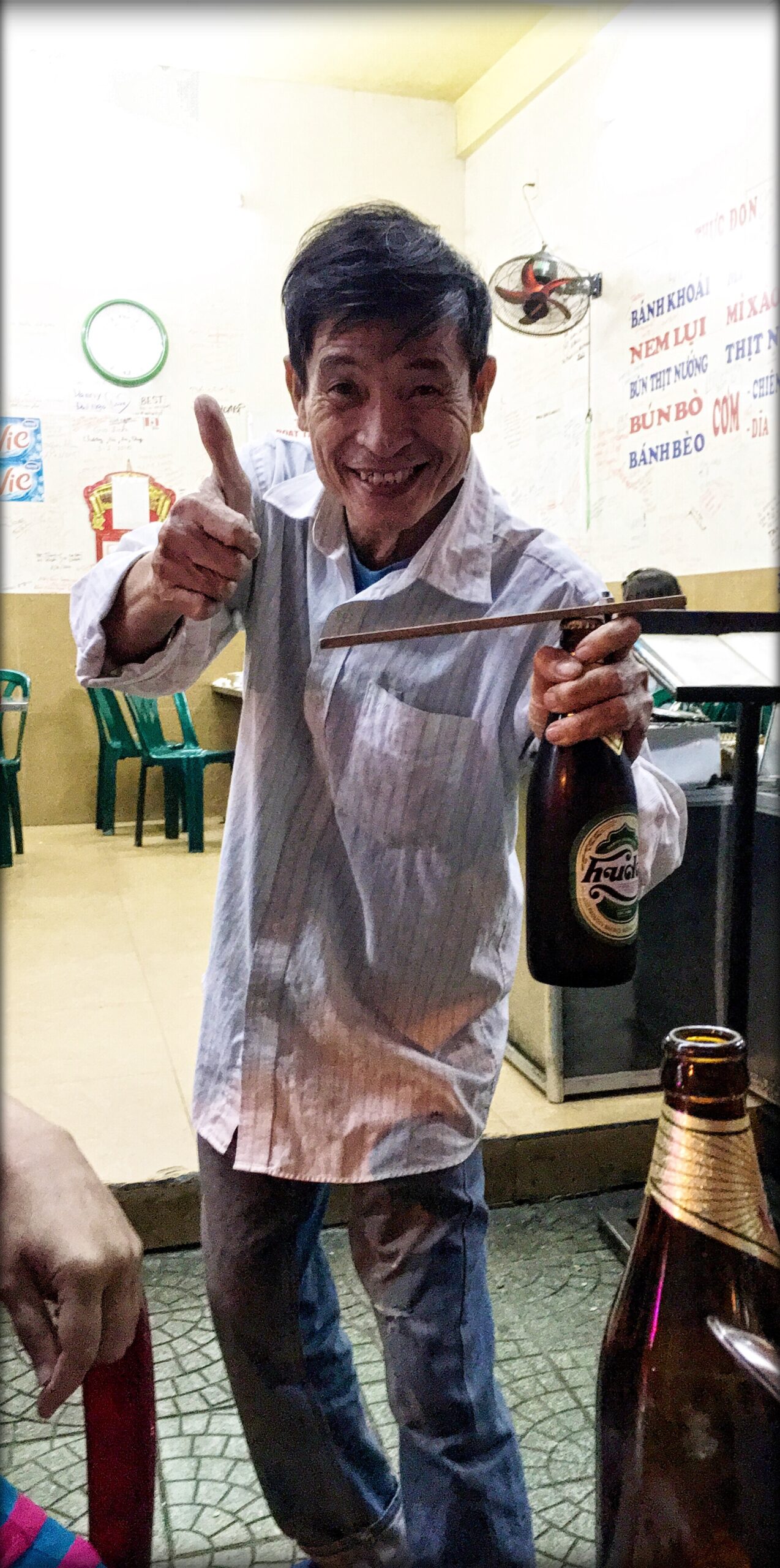 Our motorbike journey brought us to Hue, where we'll be spending the next few days. Hue is a pretty quiet place with a lot of history attached to it. In the middle of town there's a large walled city that was home to the Nguyen dynasty for nearly 150 years leading up to the wars of the mid-20th century. Most of that walled city was destroyed during the Vietnam War, but it's still an attraction that draws a lot of visitors. The former DMZ is also in the area, but that was destroyed as well. Hue is the perfect place to take a breather, which is exactly what we're doing.
As we do in most new places on our first full day, we set out for a long walk to familiarize ourselves with the area…meaning, we've found the closest Indian restaurant. We ventured to the "old town" area surrounding the walled city and did some people watching. And as we also do in most new places on our first full day, we scoped out where we could find local food. Some research led us to a place called Lac Thien, a family restaurant founded by Mr. Lac, a deaf mute man. The restaurant gets a lot of praise for good prices, friendly people, and tasty Hue food. When we arrived, we saw a big sign that read "Get the bottle open for FREE!!!" – we weren't sure what that meant, but free sounded good to us, so we took a seat.
We ordered a few Hudas (the local Miller Lite) and some Hue dishes: banh khoai, banh beo, and roll-your-own spring rolls. Our waitress brought our beers over, then picked a piece of wood with a screw in it off the table and cracked the caps off of the beer bottles. So…they open the bottles with an archaic bottle opener for free? Alright. A few minutes later the food started to come out…all fresh and delicious, served with heaping piles of fresh lettuce, herbs, figs, cucumbers and a tasty peanut sauce. Our beers were just about empty, and right on cue, a nice older gentleman with a big smile on his face stopped by and pointed at our beers, motioning if we wanted two more. Of course we did. He brought them back, grabbed the first one, and motioned for us to watch him as he placed the archaic bottle opener on the bottle, and in one very swift motion karate chopped the bottle opener down, sending the bottle cap flying, a split second later catching the bottle opener with the same hand as it shot down towards the ground. All with a big smile on his face. Christine asked if we could take a picture before he opened the second bottle, and he was happy to do so, then demonstrate his trick in slow steps for us. He then pointed to the "Get the bottle open for FREE!!!" sign, smiled, and walked away. At this point we were just confused…did they charge you to open beer bottles elsewhere in Hue?
We sipped down the beers, enjoying the cool evening weather and street atmosphere. As we were finishing up, the nice older gentleman returned with one of the archaic bottle openers. He handed it to us. It was signed, with the restaurant, date, and that it was from Hue, Vietnam. He pointed at the "Get the bottle open for FREE!!!" sign and smiled. If you were there, you would have seen a light bulb turn on above our heads at that moment. You get the bottle opener for free. We laughed, finally understanding the seemingly bizarre sign. We thanked him, paid, and set out on the walk home, happy to have randomly found such a fun place.
That nice older gentleman was Mr. Lac.