Gone Pickin – Hot Toc Barber An – Hue, Vietnam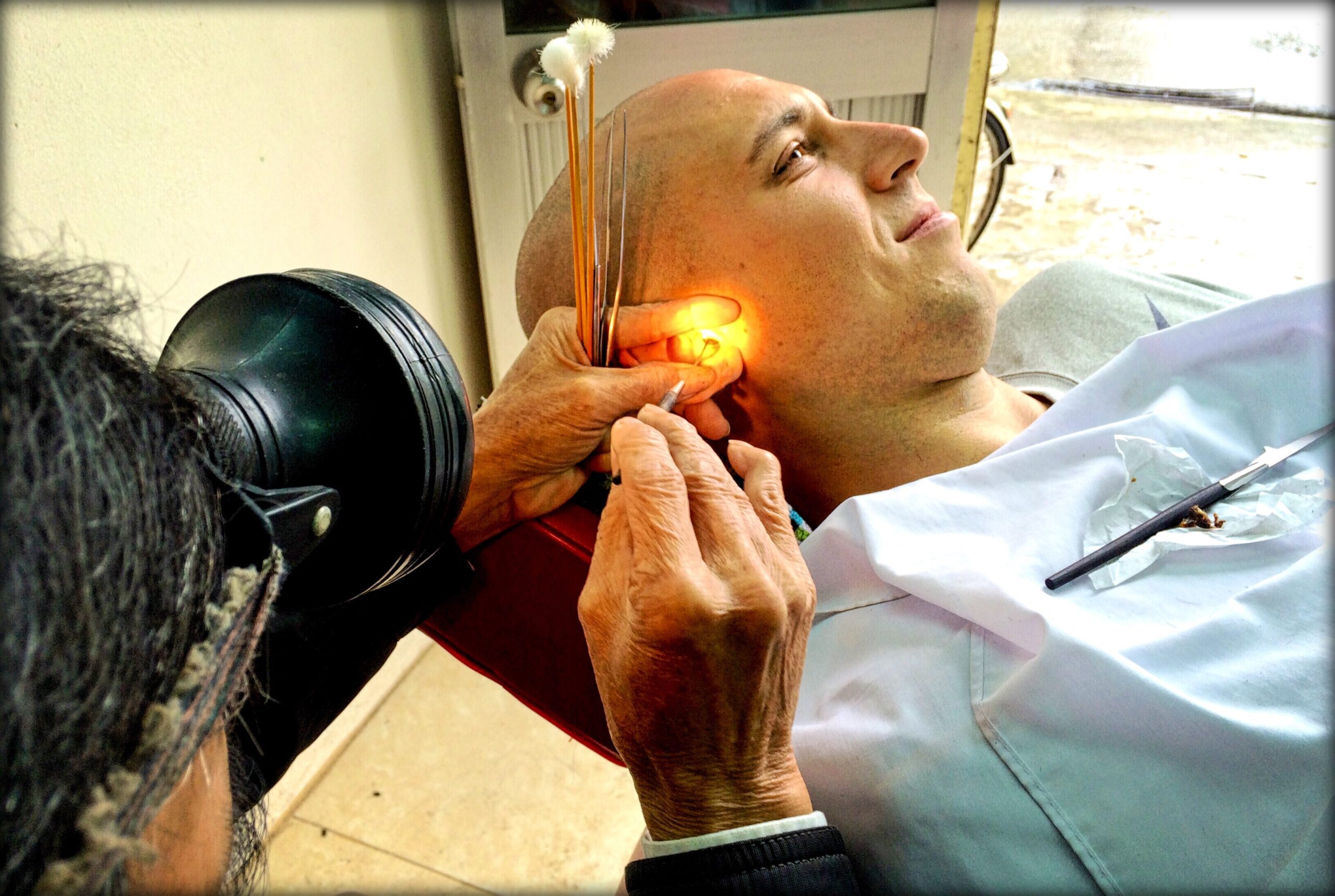 What you see above is the most exciting thing we've done in Hue, Vietnam. That will tell you a few things…
We're huge dorks.
We haven't done too much.
Hue, pronounced "hway," is the former imperial capital of Vietnam. The city is located along the Perfume River and is known for the Citadel (a walled city home to royal palaces and shrines), tombs of former emperors of Vietnam, and pagodas. The pagodas and tombs are outside of the city, and most require a tour or taxi to visit. In the end, we decided to skip them. We had good intentions of visiting the Citadel, but several days of cold weather and rain canceled those plans. So what did we do here?
We, or Christine, went for a hike in Bach Ma National Park. Kevin came down with his first, and hopefully last, stomach bug that morning and ended up resting in the van all day. Other than that, we spent our time here relaxing, recouping, planning, and enjoying every day life – which brings us to the picture.
Kevin needed a hair cut, and fortunately there was a barber 4 doors up from our Homestay. Every day he would ask Kevin if he needed a hair cut, and we assured him we'd be back. We're so glad we did. For $9, Kevin got the works: a hair cut and shave with a straight edge razor, his ear and nose hair trimmed, a massage, and an ear picking…
We had read about ear picking before we came to Vietnam, but never thought we'd actually experience it. So when the barber offered, Kevin said "why not." The barber put on his headlamp, tilted Kevin back and started picking. The procedure involved a tiny razor to shave the hairs, a mini shovel like device to scoop up wax, a long tweezer to scrape the inner ear and pick out whatever is inside, and a long cotton ball on a stick to tickle the skin. Kevin said it felt like "scratching an itch you never knew had to be scratched." As the barber worked, he would pull wax out of Kevin's ear and scrape it onto a piece of paper to show us. He was clearly happy with his handy work. We, on the other hand, were shocked and amazed. He pulled balls of wax out of Kevin's ear that were the size of a pinky nail. Every time he would pull one out, he'd have a huge smile on his face and Kevin and I would simultaneously say "ewww", look at each other perplexed, and then laugh. How could all of that be in one persons ear? Especially Kevin's. He religiously cleans his ears and is one of the most hygienic people you would ever meet. If you zoom into the picture and look at what's on the paper on Kevin's chest, that's what was in just one of his ears. We bet you'll have a reaction similar to ours.
The whole ordeal was interesting, kinda gross, and hilarious. We got to experience a Vietnamese tradition that has a cult following firsthand, and Kevin even claims that his hearing has improved!