A Weekend Getaway To Indochina – Vung Vieng Floating Village – Bai Tu Long Bay, Vietnam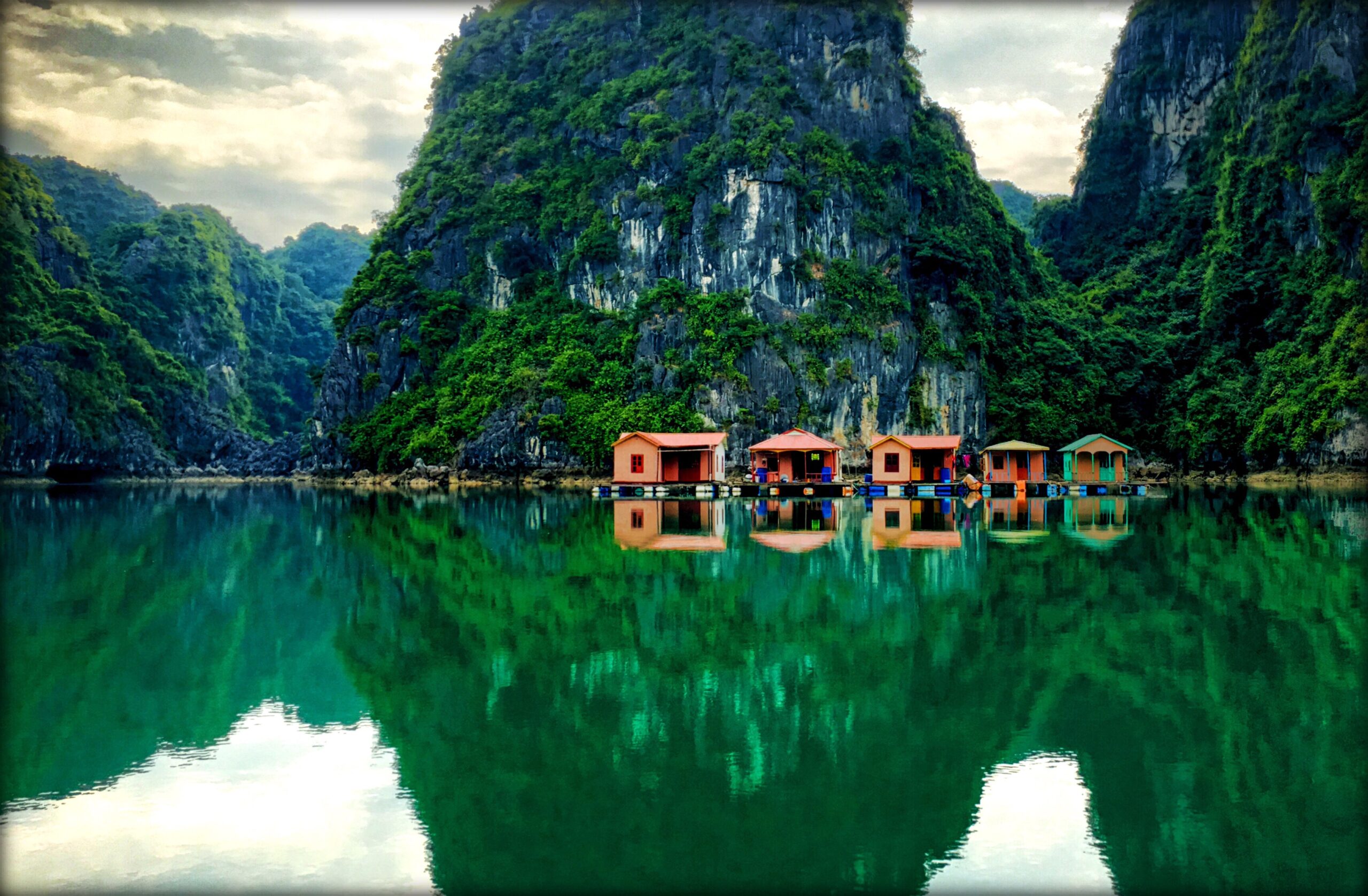 We couldn't come to Vietnam without visiting Ha Long Bay. Located along the coast of northeast Vietnam, close to the border with China, Ha Long Bay is a UNESCO World Heritage Site and one of the New 7 Wonders of Nature. It is massive in size – about 70 miles long – and is home to about 2,000 limestone islands, as well as caves, fishing villages, and now, tourists. We like nature, so this seemed like our type of place.
A proper exploration of Ha Long Bay requires a boat and at least one full day. We booked a 3 day, 2 night cruise on a junk boat that would not only explore Ha Long Bay, but would also go to a more remote part of the area called Bai Tu Long Bay. Going into the cruise, we really had no idea what to expect, other than reading that this was one of those places that you "must see in your lifetime." Our junk boat was anything but junk (the term junk refers to the Chinese design of the boat) – it was actually quite charming and luxurious, with only 24 cabins and only booked at half capacity. We departed the busy port and headed out into the bay, slowly cruising the calm aqua colored water, weaving through limestone islands that seemed to spring up from the sea all around us. It's said that the floating islands in the movie Avatar were inspired by Ha Long Bay, and this is exactly what it looks like! We were awestruck at the beauty of our surroundings.
The cruise started with a multi-course lunch outside on the sun deck, where we got to meet both the crew and the 20 or so other passengers. Each of the crew members had a western name to make them easy to remember. Harry Potter worked the bar while David Beckham brought out course after course of Vietnamese food, until we were stuffed and ready to lay back and enjoy the scenery as we cruised for the next few hours. As always, our fellow passengers were a friendly and diverse crowd, and with such a small group, we all bonded quickly.
The days leading up to the cruise were cold and rainy, but we couldn't have asked for better weather for the cruise itself. The sun came out shortly before getting on the boat, and stayed out for the duration of the trip. It is winter here and it does get cold in northern Vietnam, but we lucked out with weather in the 70s all three days.
There was a full schedule of activities to keep us busy. On the first afternoon, we stopped off and went for an hourlong kayak tour around some of the islands. Being at sealevel and getting to see them up close was awesome! That evening, we had a small cooking class where we made Vietnamese spring rolls. At night, we could go squid fishing off of the back of the boat. We watched it for a while and determined that it required more patience than we currently had, and we were ready for bed. Sleeping on a boat in Ha Long Bay was about as peaceful as it gets. There were no sounds, and no sights other than the light of the moon, stars, and the few other boats anchored in our area.
The next day was full of cruising, food, and more fun activities. We stopped off at a private island with a cave to do some exploring and relaxing on the beach. Kevin was brave enough to jump right into the freezing cold water for a swim. "How many opportunities do you get to swim in Ha Long Bay?" he kept repeating to work up the courage to jump in. The courage was needed not just because of the cold water, but because Ha Long Bay has some seriously large jellyfish – harmless, but basketball sized.
The highlight of the cruise was a visit to the Vung Vieng Floating Village. Ha Long Bay is home to several fishing villages; these small villages and their residents are entirely on water – houses, schools, people, and even cats and dogs. These settlements go back generations, and rely entirely on fishing and trading with the mainland for their survival. Vung Vieng is a very small village in an inlet that is almost entirely surrounded by islands, providing a calm oasis that protects them from the bad weather that hits Vietnam every year. As we coasted through this inlet on a small bamboo boat, we couldn't help but wonder how peaceful it must be to live in one of those colorful houses floating in the water.
The only complaint that we had about this experience was that it didn't last longer. It was the most quiet time that we've had in over 3 weeks of being in Vietnam. For the first time on this trip, we were truly unplugged from connectivity with the rest of the world. The staff went above and beyond to make the cruise memorable, remembering our names and that Christine likes spicy food, and they were eager to practice their English with us at any time. The other passengers quickly became our friends, and everyone seemed equally sad to see the experience come to an end. As we tendered back to the dock, the crew stood out on the deck and waved goodbye until we were out of sight. Once we set foot back on land, it only took about 30 seconds to encounter the first motorbike in over 48 hours. Back to the real world…but Ha Long Bay will always hold a special place in our hearts.