Fifty Shades Of Green – Jatiluwih Rice Terraces – Bali, Indonesia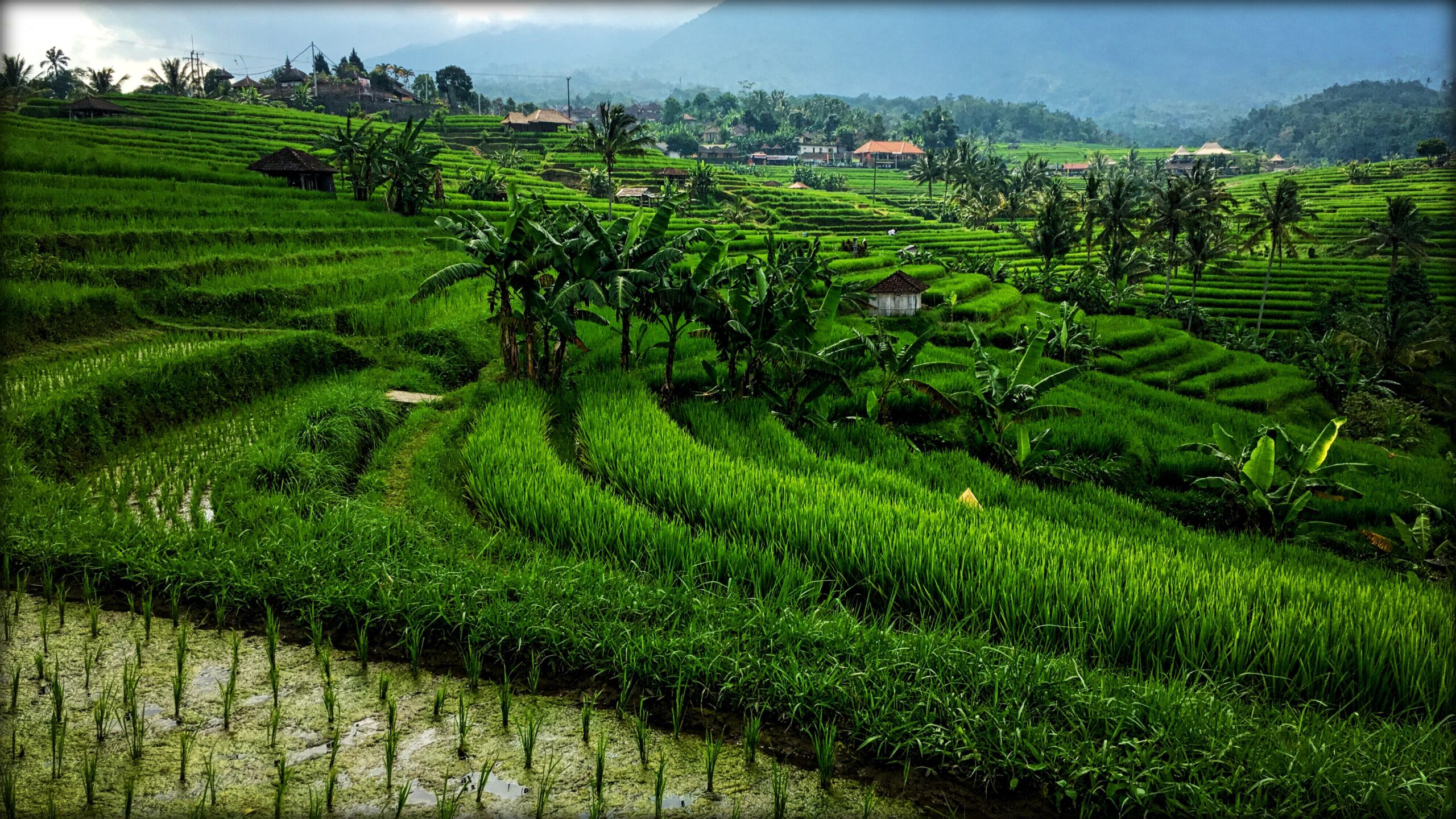 On a map, Bali doesn't look that big. It's only 95 miles wide, but the poor quality of the roads compounded by the number of cars and motorbikes makes getting around time consuming. There is so much to see in Bali – famous rice paddies, numerous mountains, amazing beaches, and of course, the temples. Some say there are more temples than houses here.
We realized that for us to get just a taste of what Bali had to offer, we needed a car. Not feeling comfortable enough to navigate the roads on our own, we hired a guide for the day. We would spend the next 10 hours with Kadek, a 26 year old Balinese local, who loves Green Day and American action movies. Although he was our guide, it was more like hanging out with a friend. There was lots of joking. He taught us about Balinese culture and street food. He walked through the temples with us teaching us about the history. And he found us the most amazing Balinese lunch – Babi Guling. Suckling pig stuffed and infused with a spicy concoction usually involving turmeric, coriander, lemongrass, black pepper and garlic, then grilled over a spit. Yes, we're terrible "vegetarians."
The highlight of the day was visiting the Jatiluwih Rice Terraces, a UNESCO World Heritage site. The significance of this area is best explained by an excerpt from the UNESCO World Heritage website:
"Rice, the water that sustains it, and subak, the cooperative social system that controls the water, have together shaped the landscape over the past thousand years and are an integral part of religious life. Rice is seen as the gift of god, and the subak system is part of temple culture. Water from springs and canals flows through the temples and out onto the rice paddy fields. Since the 11th century the water temple networks have managed the ecology of rice terraces…"
This area was absolutely stunning. We found ourselves surrounded by emerald green steps that seemed to lead to the sky. The palm trees that dotted the landscape only added to the beauty. We went for a short walk through the patties, jumping from tier to tier, over small irrigation streams. We could have easily spent hours there walking around and enjoying the scenery, but we had a sunset to see!
We ended our day at the Tanah Lot Temple, a picturesque temple on a cliff overlooking the Indian Ocean, dedicated to the sea. We hiked down the cliff to a small beach, where we watched surfers and waited for the sunset. It was a cool, relaxing end to a long, hot day.