Embracing The Bald – Khao San Road – Bangkok, Thailand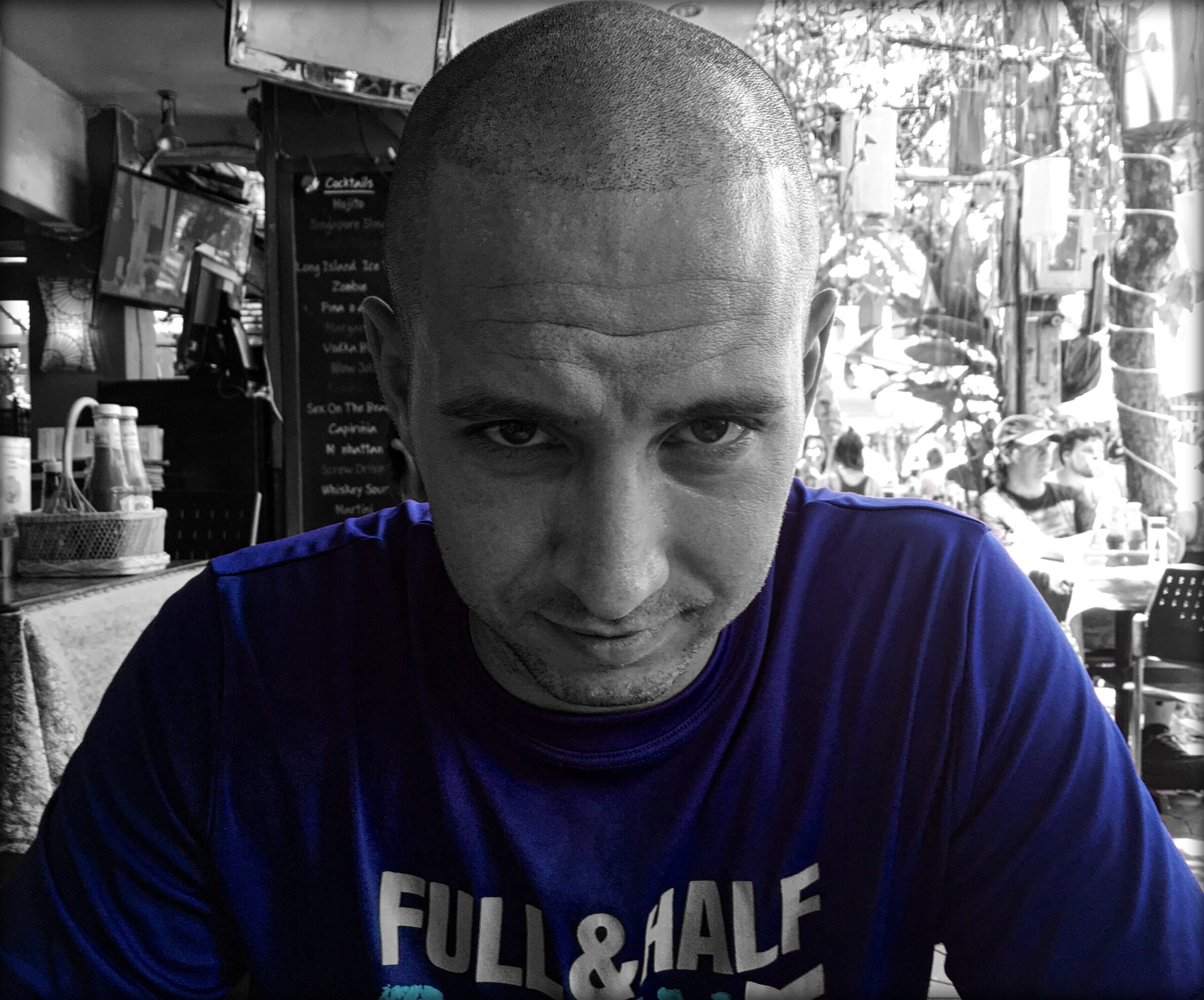 Kevin has had a rough couple of days. On our last day in Indonesia, he came down with a mild stomach bug. We think it might have been an undercooked pork katsu. Lesson learned…stick to the nasi goreng. We arrived in Thailand, our home for the next month, two days ago, but have been laying low, waiting for the bellyache to pass. We've been staying in the Old Town district of Bangkok, the heart of the city where all of the ancient temples are found. It's a very neat area; fortunately we saw most of these sites on our trip to Bangkok last year, so we're not missing out on too much.
Kevin hasn't had a haircut since Kuala Lumpur, and he's been looking a little scruffy. We had to get him cleaned up. We found a barbershop in the neighborhood and ventured in. Kevin took a seat, made the head shaving motion, and said "zero" (meaning no attachment on the shaver – this has been understood everywhere so far). The woman who was cutting his hair seemed to get it. She did an excellent job of shaving his head and beard. When she then pulled out a straight razor, we both gave each other a questioning look. Haircuts in Asia have been very detailed, and we never know what they're going to do, but it always looks good so we never interject.
Well…maybe we should have interjected this time. She proceeded to lay Kevin back and stylize his forehead into a very noticeable square pattern, while Christine did her best to hold back the laughter. We get it, Kevin is developing some male pattern baldness. Why this woman had the urge to add an inch to his forehead, we will never know, but for $1.68, we'll take it.
Afterwards, we headed over to Khao San Road, Bangkok's infamous backpacker street, for a feast of delicious Thai food that we've been craving since the beginning of this trip. Mango with coconut sticky rice must be the cure for a bellyache, because Kevin has been feeling better since that meal.