Wahooooo! – Phi Leh Lagoon – Ko Phi Phi Leh, Thailand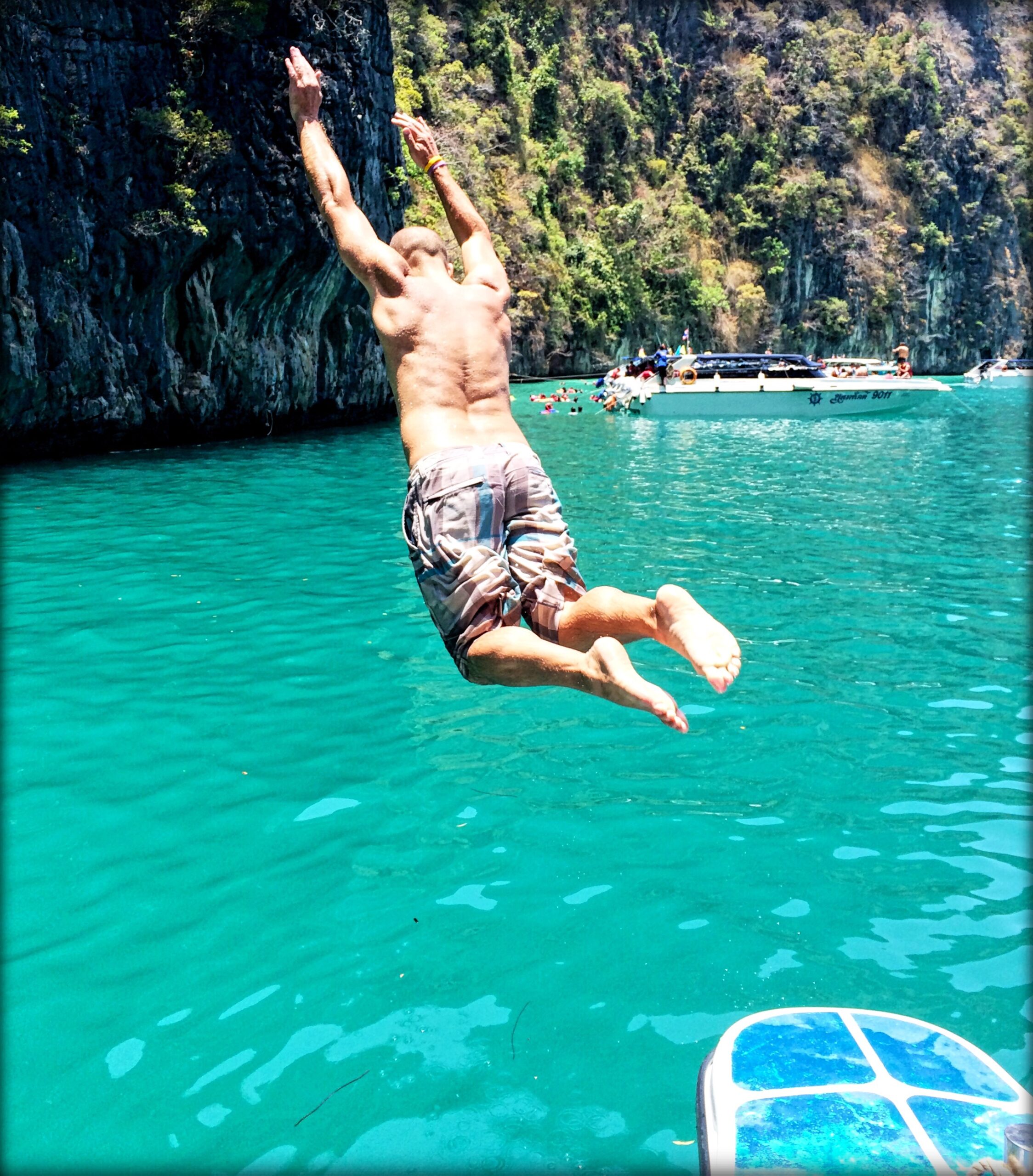 We finally made it out on a boat here!
We booked the last two seats on an all-day speedboat tour around the Phi Phi Islands. The boat picked us up on the beach in the morning (picked us up, as in we had to wade out into the water and climb onto the boat…there are no docks here) and set off on a 20 mile journey out into the Andaman Sea to Phi Phi. Over the course of the day, we made a big circle around Ko Phi Phi Don and Ko Phi Phi Leh, the two main islands. We bounced around from one location to the next, snorkeling, swimming, having lunch on the beach, and taking pictures.
The Phi Phi Islands are so beautiful, but sadly are facing the consequences of an unchecked boom in tourism since "The Beach" was filmed there and put them in the spotlight. There's a lot of pollution and damaged coral. The five minute stop off to take a picture at Maya Bay (where the movie was filmed) was hardly memorable; it was jam packed with boats and tourists. Even so, it's such a beautiful place today that we can only imagine what it might have looked like ten years ago. The water is still turquoise, and there was still a good amount of marine wildlife to be seen. Christine had to stay above water to keep her almost-closed incision dry, but Kevin swam with fish and saw a shark, some barracudas, a lobster, starfish, sea urchins, and even a moray eel. There were quite a few nasty jellyfish that the tourism boom hasn't killed off. Kevin got brushed on the arm, but a few other people on the tour got some serious stings.
The highlight of the day was a stop at Phi Leh Lagoon, a secluded little nook in Ko Phi Phi Leh that's great for swimming. It has a very narrow entrance which makes it feel isolated, and there are no beaches, so the boats just anchor up to the limestone walls. Our tour guides were teasing all of the Chinese tourists on the other boats – apparently most Chinese people can't swim, so they just float next to the boat in life jackets. A group of them can be seen in the background of the picture. Our tour guides encouraged jumping off of the boat, and Kevin was more than happy to do so, repeatedly. He even asked nicely and they let him jump off of the top of the boat. Wahooooo!