No Crabs Were Harmed In The Taking Of This Picture – Addiction Aquatic Development – Taipei, Taiwan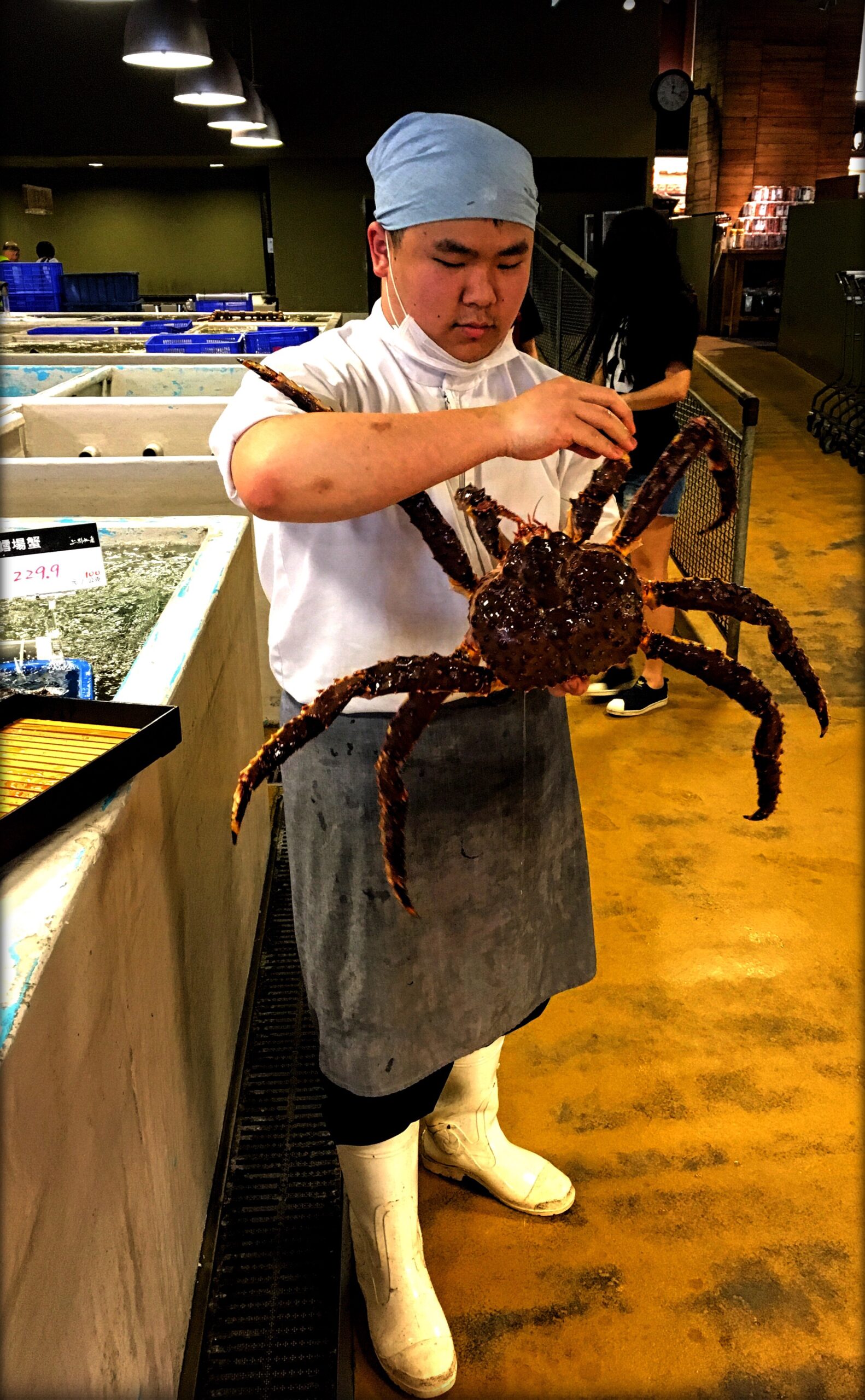 After a sick day (Kevin doesn't seem to have the iron stomach that he claims he has) and a travel day, we're back up north in Taipei for the remainder of our time in Taiwan. Taipei is a modern Asian city with plenty to see and do, and we're going to squeeze in as much as we can over the next week. We're staying in an AirBnB apartment just a few blocks away from Taipei 101; formerly the tallest building in the world, currently the 4th tallest building in the world. It's a uniquely designed building, and an impressive feature in a cityscape that lacks many other tall skyscrapers. And for the first time since New Zealand, we can say…it's kind of chilly here at night!
Today's adventure took us to Addiction Aquatic Development, Taipei's version of a fish market. Kevin really wanted to go check this place out, and Christine couldn't figure out why. By now, we've been to many fish markets in Asia, so what's the big deal? We set out, ready for the usual – a big, stinky room lined with water tubs on the ground filled with fish, shrimp and god knows what else, needing to watch where we step, making sure to avoid mystery puddles. But as soon as we entered the fish market, Christine instantly understood the appeal.
AAD was anything but the usual wet market we had become accustomed to in Southeast Asia. This place is owned by a Japanese company, and has been modeled after Japanese style fish markets. One building housed several shops. The core of it all is a clean, temperature and smell controlled indoor market offering fresh, live seafood from around the world. Attached to the market is a gourmet grocery store, a florist, wine bars, and standing restaurants where you can order the freshest sushi, raw oysters, steamed crabs, lobsters, scallops, fish, and whatever else your heart desires, straight from the tanks.
When you enter the fish market, you're in a room with large aquariums. We walked around, taking a look at what was inside each one. We were excited to see geoduck, the large saltwater clams that have a very phallic shape. We had seen them on TV, but never in person. They're good for a laugh. Then there were the tanks with the giant King Crabs – which we have never seen alive in person. They are massive! Some of the crabs had their huge, purple looking legs draped over the edge of the tanks. It was not the crab in the picture's lucky day. He was picked out of the tank and weighed – presumably to be sold at one of the restaurants in the market. Which was where we headed next.
We went during lunch hour, so the place was packed. We settled in at a small wine bar and ordered up some wine, raw oysters, Iberian ham and a cheese plate. As we sat eating our lunch, the wine glasses above us started to clink, and the ground below us started to shake. The place fell quiet. It was an earthquake – the second one of our trip, and the second one in Taipei that day. The waitress settled the glasses and went about her business as normal; apparently earthquakes are relatively common here. It wasn't big enough to do any damage, so after a minute, we also went about our business and enjoyed the rest of our lunch.
It's no wonder this place has "addiction" in the name. Before we left, we were already planning a potential return!