Dan Dan Mian…You My Only Friend – Uncle Deng Dan Dan Noodles Shop – Taipei, Taiwan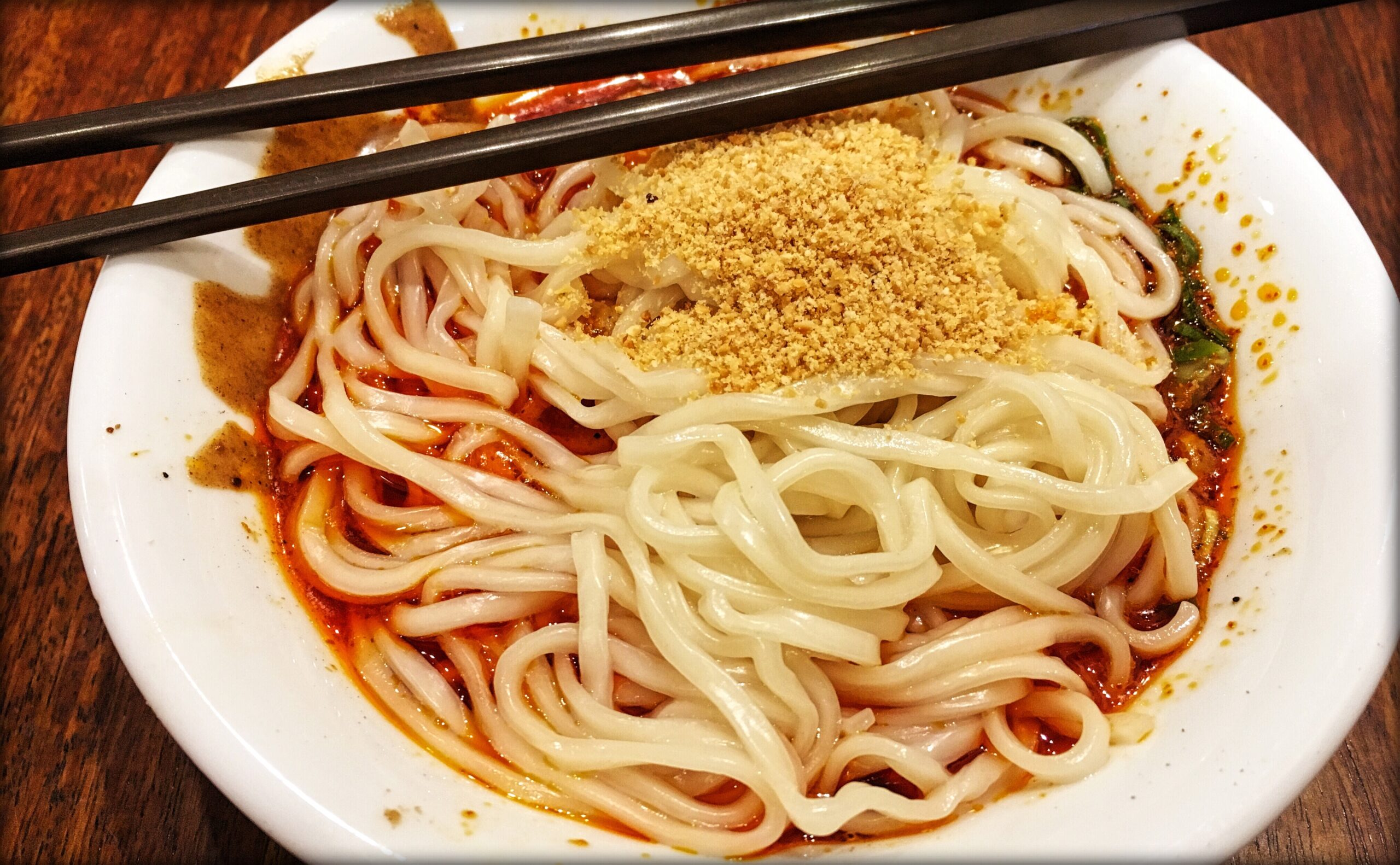 Taiwan is a foodie destination, and while we haven't been posting much about it, we wouldn't miss sampling the many snacks that this country is known for.
In Kaohsiung, we found the "little sausage inside big sausage," papaya milk, and baobing, a small mountain of shaved ice with toppings. Christine managed to avoid the pungent local delicacy "stinky tofu," although we came within smelling distance of it a few times. We visited the Shilin Night Market in Taipei, where we tried a piece of extra-extra-large fried chicken, some egg tarts (they weren't as good as the Portuguese kind), and a cherimoya. We hunted down a few guo boas, the "Taiwanese hamburger" that consists of braised pork belly wrapped up in a big steamed bun. And we've made two trips to the legendary Din Tai Fung for xiao long bao…we're pleased to report that Christine's chopstick skills have improved significantly since we went to their Hong Kong restaurant last year, where she really struggled!
The most exciting food moment for us was over a little-known dish called Dan Dan Noodles. It's a simple bowl of spaghetti-like rice noodles, smothered in chili oil and topped with crispy minced pork and scallions. We discovered Dan Dan Noodles at home at a restaurant called Han Dynasty. They have several locations in the Philadelphia area, but our go-to spot is in Limerick. It's a spicy but tasty dish that we just can't get enough of.
Several times on this trip, when we've reached a new country, Christine would ask "do they have Dan Dan Noodles here?" The answer was always "no," but we hit the jackpot in Taiwan. Some searching landed us at Uncle Deng Dan Dan Noodles Shop, a place that supposedly had killer Dan Dan Noodles, but had no English menu. We walked in armed with all we needed to know – "Dan Dan Mian" – the Mandarin pronunciation of this bowl of deliciousness. Their version had crushed peanuts mixed in which gave it a different flavor, and it was worth the trip.
If spicy is your thing, and you live in the greater Philadelphia region, a trip to Han Dynasty should be in your future. Perhaps sometime in August…we'll meet you there with a six pack!