Just In Time – Nao Nao Beach – Palawan, Philippines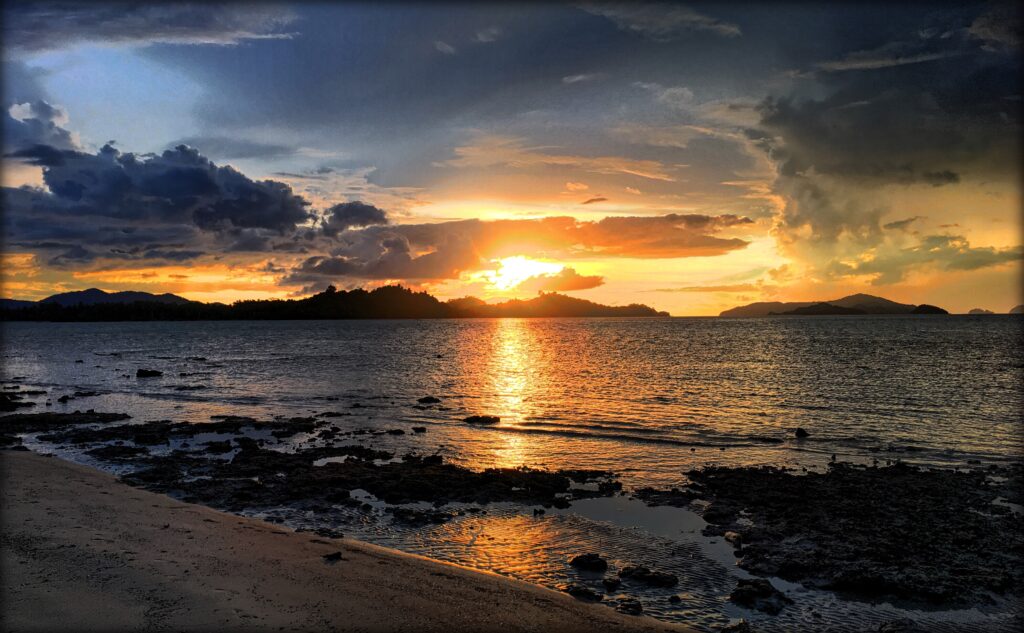 Today we said goodbye to Duli Beach and headed south to Port Barton, a small oceanside village where the locals like to come to vacation. Just getting here was an adventure. We had to do that hour and a half trike ride back to El Nido, then squeeze into a van with seven other people for a four hour ride over half-paved, half-dirt roads – including a muddy overpass that looked like a landslide waiting to happen. When we finally reached Port Barton, we boarded a small boat and took a short ride up the coast to our accommodation.
We've found that accommodations in Palawan are very basic. They all have their quirks, so it becomes an exercise of finding a place with quirks that we can tolerate for a few days. When searching Port Barton, Christine read countless reviews. The few options available all had mentions of bugs and cockroaches, dirty towels and dirty sheets, etc. These types of things don't even bother us at this point (…aside from the cockroaches!), but we still try to find the best option available within our budget. Just when Christine thought she had found the perfect spot, she read one last review that changed her mind. It started with how great the place was, until one night a creature, presumably a rat, ran across the thatched roof and peed…right over the person's bed, waking them up. While that's no fault of the hotel, we just couldn't pull the trigger and stay there. Our search continued.
We found ourselves a small B&B type place with four beachside cottages. Because it's outside of town, we're "stranded" again. The ocean is just feet away from our bed. There's a small beach with about a million hermit crabs, a kayak, three friendly dogs, coconut trees to climb, and a boat which we can rent with a guide for the day. We've moved on up and we now get electricity for 6 hours a day (we're taking advantage of the fan as we type this!). There's no cell signal, but we can ask them to turn on Internet for a bit when we need it. Oh, and there's a chef, who prepares awesome meals. Christine has requested a cooking lesson. So here we are relaxing again, dreaming of air conditioning and for a world free of sandflies and mosquitos. But on a good note, we're facing west, so we have a few sunsets in our future!