Something Old, Something New – Old Delhi – New Delhi, India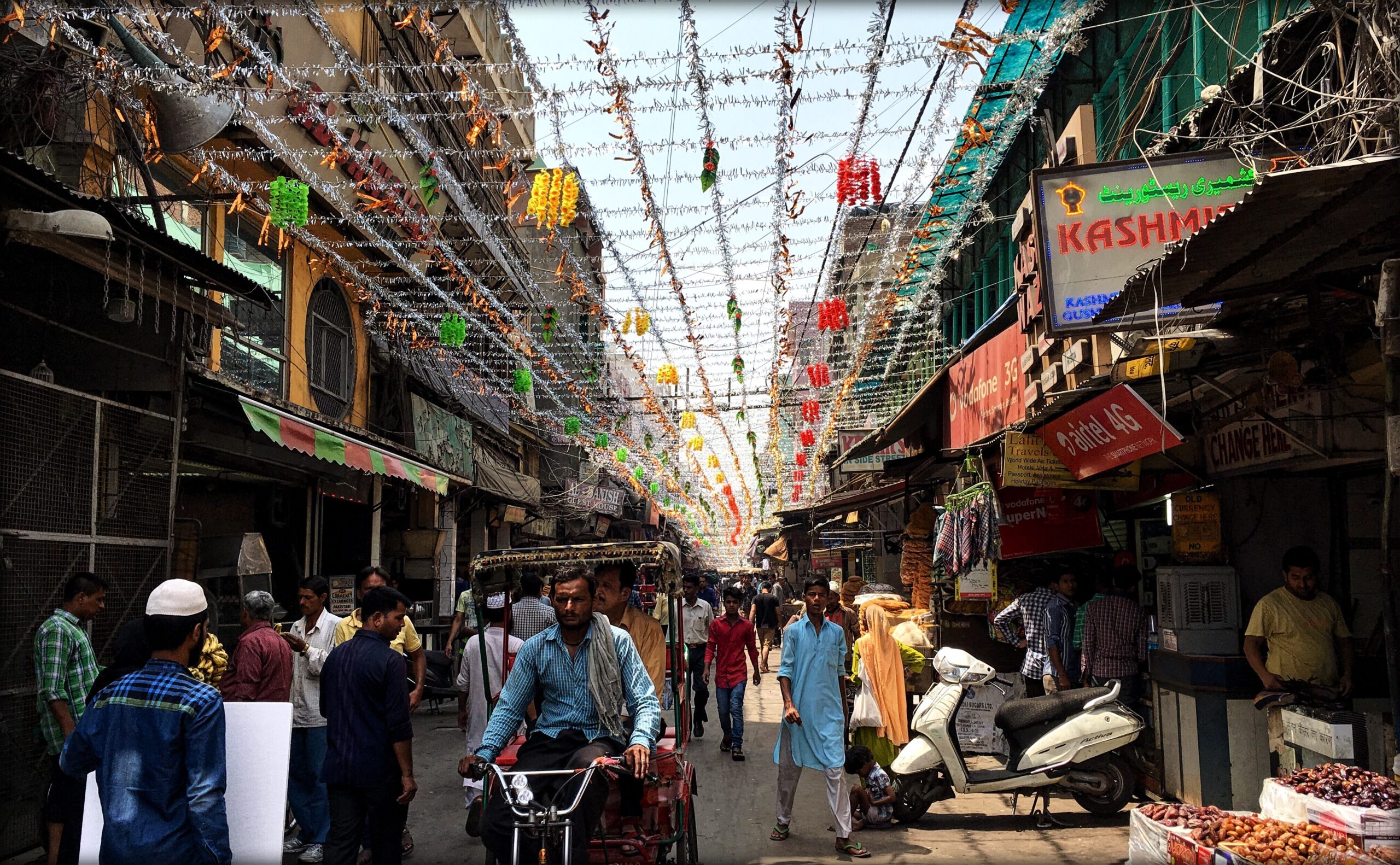 Our first day in India was spent in the comfort of a private home, acclimating ourselves to the tastes and smells of authentic Indian food. For our second day, it was time to get out for a firsthand experience. We paired up with Rajiv again for an all day tour of New Delhi that was about 75% food, 25% tourism. In other words, we stopped at a few local attractions when we needed a break from the eating, which we did a lot of.
We started the day out in Old Delhi, the old walled area of the city that used to be filled with mansions, decorative mosques and elaborate gardens. Today, it's a commercial area filled with bazaars, or markets, which include everything from wedding cards to the largest spice market in Asia. It's the heart of Delhi, where life unapologetically moves quickly around you in all directions – you better keep up. Had we not had a guide, we're not sure if we would have made it here on our own. It's dilapidated, loud and chaotic. The pervasive stares were unnerving, and the area was a maze of streets, alleys, people, rickshaws, and even cows, which made it difficult to get around. The picture is of the very first street we walked down after getting out of the car. Those first few minutes of adjusting to the environment were intense.
We weaved in and out of this chaos, popping into shops that were literal holes in the wall to try a new snack. These shops were institutions – the newest one was about 40 years old, and most have been in business for over 100 years, making the same one or two specialties. We were told from the beginning that we were only allowed a bite of each item, because we'd be eating for the next six hours. For the most part we obeyed, but there were a few times where we couldn't help ourselves and had to eat it all. How are we supposed to only have one bite of something that we'll likely never see again?
We can't begin to list the foods we ate. We don't even have names, just pictures that we snapped before digging in. There were a variety of breads and fried doughs with curries, sweet dessert dishes made with foods we would never consider desserts (pumpkin, cottage cheese, rice, lentils), cardamom ice cream, soups, savory pastries, and even a mango paneer sandwich (that one was a bit strange…but so good!). Everything was amazing. We're glad we got to come here and try so many different things in one morning.
Next, we took a rickshaw ride to the spice market, where you could find any spice imaginable. Just walking into the area was an assault on our nostrils. The spices all blended together to form this amazing, indistinguishable smell that cleared your sinuses. We visited one of the spice shops and picked up some spices that we don't think we'll be able to find back home. After that, we made our way out of Old Delhi to a more modern area of the city to continue our food tour.
To give ourselves a break from the eating, we visited a few tourist sites. Christine read about step wells on CNN before our trip, and had to see one for herself. We were in luck – there's one in New Delhi! We stopped at Ugrasen Ki Baoli, a step well right in the middle of the downtown area. Step wells are built to collect rain water. They're elaborate stone structures built into the ground, with steps leading down to collect the water. They are no longer in use, but can be found all over India – many in shambles. It was really interesting and we wish we had time to visit more!
We also stopped at Gurudwara Bangla Sahib, a Sikh temple, where we learned about the Sikh religion and their mission to help anyone and everyone regardless of their race, religion, class or gender. At this temple, workers and volunteers make breakfast, lunch and dinner to feed over 10,000 people every single day, for free.
After burning a few calories seeing the sights, we built up just enough of an appetite for one final stop. Around the government buildings there are canteens that specialize in the different foods from each region of India. We went to a Southern Indian canteen that is known for spicy foods. We had another feast here, all eaten with our hands. Kevin has mastered the "hand to mouth" technique and now prefers it over a fork. Stuffed to the gills, we ended the day with a much needed walk by the president's house and the parliament buildings. We had to burn some calories somewhere!
Today was all about diving right in and experiencing an authentic India that we would have never found on our own. It was intense, but having Rajiv at our side made for a smooth experience. It was a day that we'll never forget, and it makes us even more excited for what's next.