Indian Spices 101 – Jagaran Apartments – New Delhi, India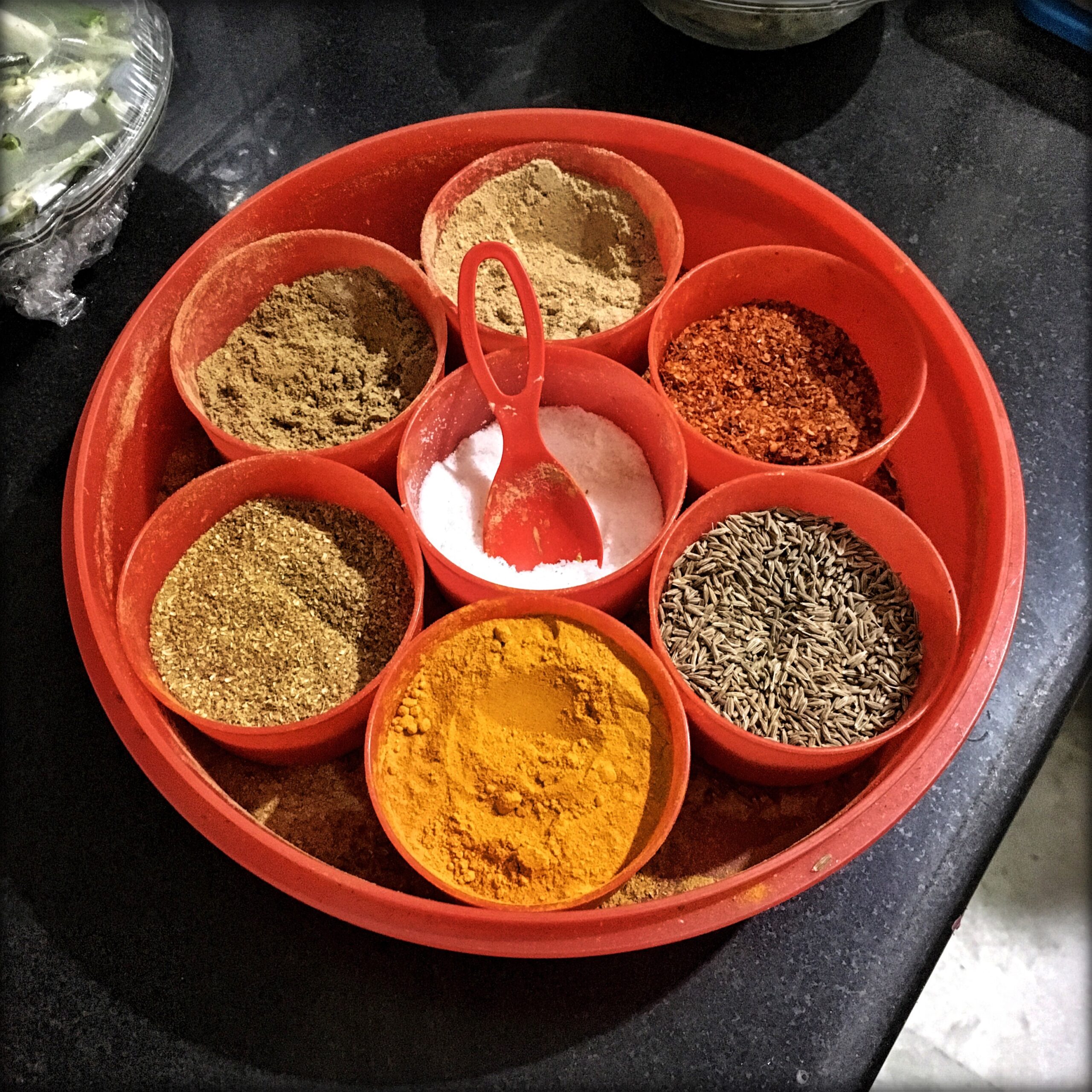 Our first step west from Asia brings us to India. We're still technically in Asia, but this isn't the Asia that we've been in for the last four months. We don't know what to expect, but we love Indian food, so we had to make it a stop on our trip.
While we're here, we'll be on a guided tour for most of the time. This isn't our typical travel style, but after a lot of research and debate, we felt that this would be the best option for us. India is notorious for being overwhelming and frustrating to Western tourists. We've heard this time and time again from travelers that we've met, many of which never want to go back. We only have a week here, and we need to make the most of it. We're actually excited, because the company we chose specializes in tours that focus on food culture and cooking, while still hitting up the must-see tourist attractions.
We flew into New Delhi yesterday on a red eye via Shanghai. Christine's goal of not setting foot in China had to be retired. After a quick rest, Rajiv, our tour guide for the next few days in New Delhi, picked us up and took us to his apartment. Over the next six hours, we were given a crash course on cooking Indian food, with a focus on how spices are used to create those flavors that we love so much.
The first thing we learned about was the masala dabba, the Indian spice box that is found in every Indian kitchen. A masala dabba contains the seven most common spices used in Indian cooking – salt, cumin seeds, turmeric, coriander, garam masala, red chili powder, and amchoor. We learned about what type of flavor each spice has, and how they can be combined to create flavor profiles, like hot and sour. Since Indian food as a whole uses more than just these seven spices, we also learned about some of the less commonly used ones, like poppy seeds, fenugreek, cinnamon, cardamom, and clove. And then there were the fresh spices – garlic, green chilies, onion, ginger, coriander, and mint. The amount of ingredients that are added strictly to create the flavor of an Indian dish is overwhelming, but spending time with a real Indian chef where we could ask questions helped to demystify a lot of it. If we remember half of what we learned by the time we get home, we'll be making some tasty Indian food in no time.
After the spice lesson, we cooked up an entire day's worth of delicious Indian food. It was very hands on, with us doing most of the work and Rajiv giving guidance along the way on how much of each spice to use. We started out with some homemade masala tea (a.k.a. chai) and a big bowl of potato pakora, cauliflower pakora, and onion bhaji. These are all battered, deep fried vegetables that make a great snack. Then we prepared a dinner feast of spiced pumpkin, spiced okra, dhal tadka, spiced potato, and our favorite, baingan bharta, a spicy roasted eggplant paste. It wouldn't be a proper Indian dinner without some breads, so we prepared a batch of dough and grilled up some homemade roti, paratha, and even a few dosas. Then it was time to eat!
Over dinner, we talked with Rajiv about what to expect for the rest of the tour. It turns out that he is the founder and president of the tour company, and a foodie-turned-chef. For whatever reason, we got lucky because he chose to be our guide while we're in New Delhi.
We've been making Indian food that just doesn't taste right for years, and now we understand why. This cooking class was without a doubt the most informative one we've taken on our trip. It was the perfect first day in India!