A Sunrise Cruise On The Ganges – Manikarnika Ghat – Varanasi, India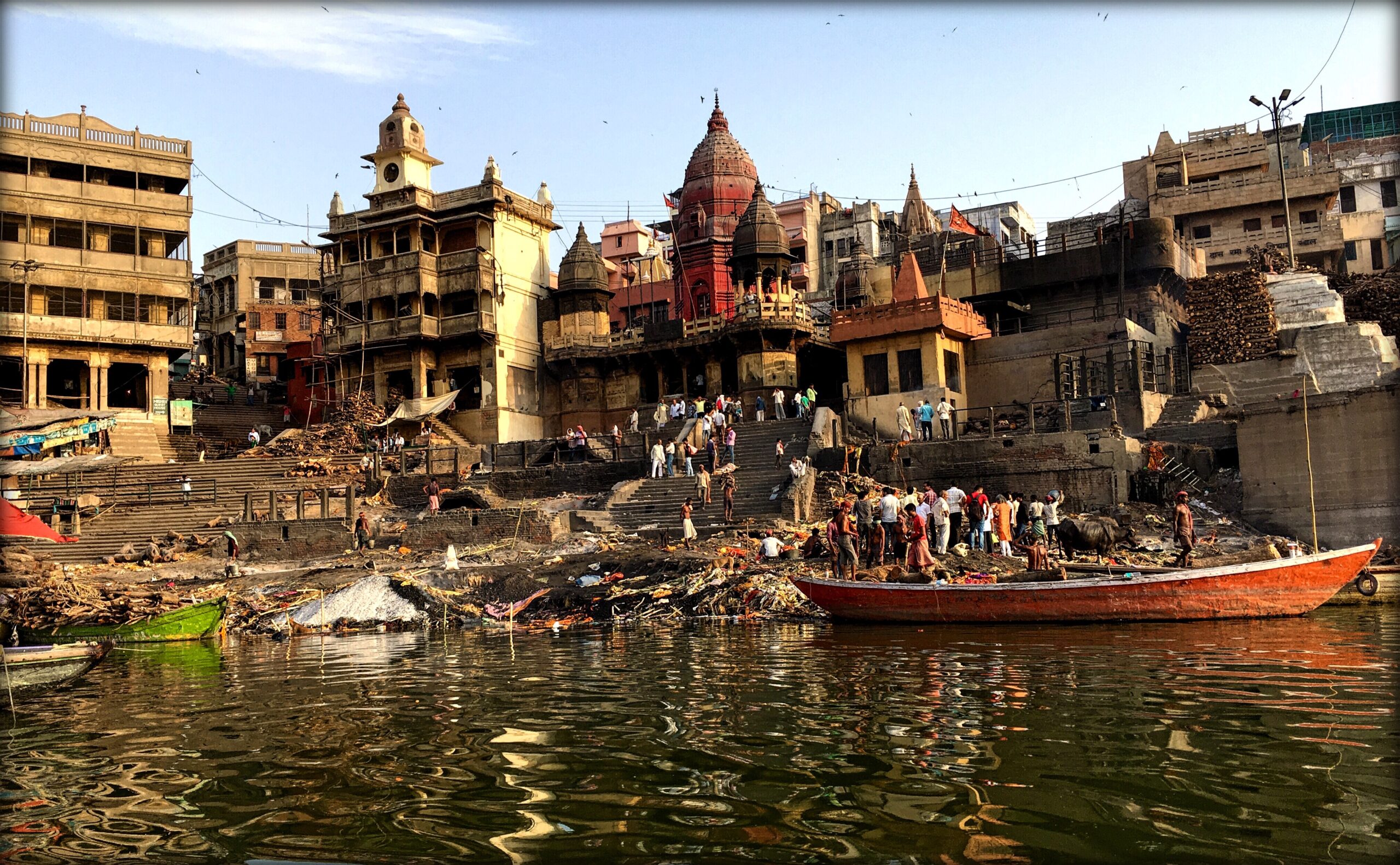 The view of the Ganges River from the top of one of the ghats is amazing. But there's a slew of activity that takes places right on the river, and the best way to see it all is by boat. After getting a few hours of sleep, we headed back out at 5am to catch the sunrise and take a boat ride, where we would be able to see the morning rituals take place.
The day starts early here. The streets were already starting to fill up with people. On our walk to the river, we passed five men walking barefoot and chanting, making their pilgrimage. As we got closer, people were selling flower garlands and other objects used in rituals. Dogs and cows alike were scavenging through piles of trash on the street, looking for scraps of food. Many people were still asleep, curled up wherever they could find a space along the street.
By the time we reached the river, rituals were already underway. First-timers were getting their heads shaved. Priests were perched under umbrellas, offering blessings to the pilgrims. We purchased some small offerings, boarded our boat, and set out. The river itself was calm, a peaceful break from the chaos of the city. The further we went, the quieter it became. People bathed and swam in front of the old buildings and temples along the river, which were basking in the orange glow from the rising sun. When we reached a quiet section, we lit the candles in our offerings, made wishes, and set them afloat in the river.
The picture is where the boat ride ended. This is Manikarnika Ghat, and this is where cremation ceremonies occur. This place isn't for people with weak stomachs. There was a lot of activity, even early in the morning. Wood was being stacked and moved around. Fires were being started, and hot ashes were being scooped up and carried around. One family had already shown up with the body of a loved one, and was starting pre-cremation ceremonies. In the midst of all of this were cows and dogs scavenging for food, and no more than 20 feet away, people were swimming in the river. This particular aspect of Varanasi is what most visitors find to be either fascinating or overwhelming.
We hopped off the boat and continued our tour through the narrow corridors of the city behind the cremation area. There were flies, cows and cow pies to avoid. We stopped at an Astrologer for a reading – this was definitely an experience. His home was more like a pet store. There were aquariums with flower horn fish lining the walls. He was a burly, hairy man, wearing an orange sarong and a wife beater that was probably white at one point a long time ago. He chain smoked cigarettes, sitting Indian style on his floor while watching a TV that was showing surveillance camera footage of the hustle and bustle taking place just outside his door. Our readings would be interrupted with phone calls and random visitors. We'll take what he said with a grain of salt – but regardless it was a very interesting two hours.
Just barely 24 hours after we arrived in Varanasi, we were back at the airport, waiting for our return flight to New Delhi!