To The Right – Anse Lazio – Praslin, Seychelles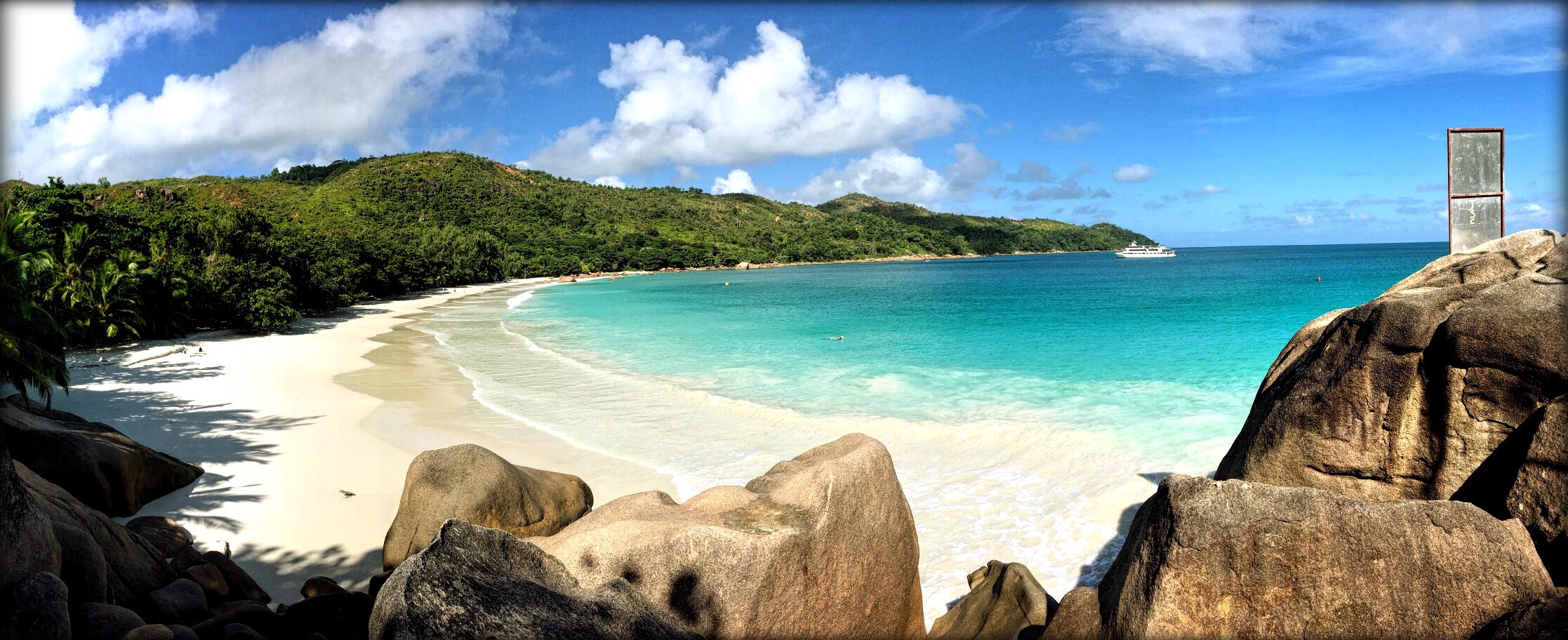 One more day on Praslin, and one more direction to go. This time we headed to the right. We're staying on the right side of the island, so this left us with a much smaller area to explore. We took a windy drive along the beach, up and over a hill, and down to Anse Lazio, easily the most beautiful beach on Praslin. It's the perfect example of the white sand, turquoise water beaches that come to mind when the Seychelles are mentioned.
We headed out early in the morning to beat the crowds, if there would be any. When we arrived, there were just two other couples on the entire beach. We set up camp in a shady spot, then Christine got straight to relaxing, while Kevin went climbing, which is where the picture was taken. By the time he returned, the crowds were starting to arrive.
We spent quite a bit of time in the water here. It was shallow enough that we could get out beyond where the waves were crashing and still only be chest-deep, and it was calm enough that we didn't have to fight any currents. We were warned when we arrived on Praslin that just this year there have been stingrays coming in to shallow waters to rest in the sand. Many unfortunate people have stepped on them while coming in or out of the water, and have been treated at the hospital for the sting. Fortunately the water is so clear on Anse Lazio, we easily spotted a big one swimming around us while we were hanging out in the water! He eventually swam away, but it was enough to make us much more cautious for the rest of the morning.
By midday, the beach was full, and the photo shoots were underway. Maybe we're the weird ones, but we just don't understand the excessive nature of photographing ourselves. One couple brought a tripod and multiple bathing suits so they could do wardrobe changes in between photos. Another girl wandered around the beach with a selfie stick, watching herself as she walked, primped, then took selfies in various positions on the sand and in the water. This was our cue to leave…goodbye Seychelles!