Tasting The Good Stuff – The Sandeman Caves – Porto, Portugal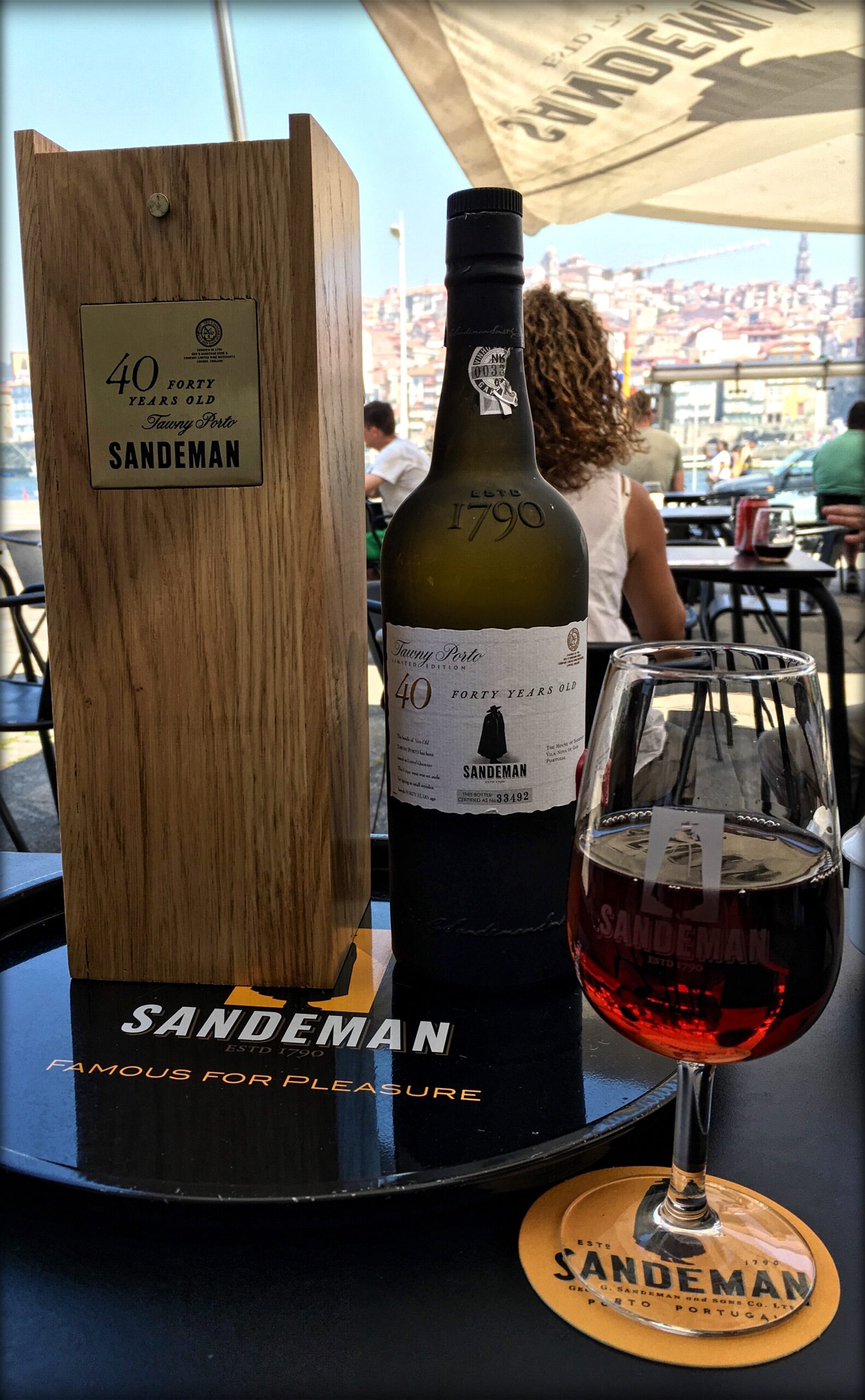 We've driven about four hours north from Lisbon to Porto, the second largest city in Portugal. The minute we arrived, Kevin asked "why did we stay in Lisbon so long when we could have been here?"
Porto is our kind of town. It's big, but most of the action is along the Duoro River, which divides the city between Porto and Gaia. On both sides, the city is carved into the sides of steep hills that rise up directly from the riverbanks. It's a very picturesque place. And it's the home of port wine, which seals the deal for us. We love a good tawny.
On the Porto side, where we're staying, there's a castle, churches, the most historic looking McDonalds ever, and lots of restaurants and cafes. The Gaia side is lined with port houses; each port wine producer has caves in the side of the hill where their port wine is aged, fronted by a tasting room and store. You could easily spend a day or two doing tours and tastings along this side of the river. And then there's the river itself…full of boats taking people on cruises up the Duoro River to see the vineyards.
We've been here for a day and a half, and it's been a welcome change of pace from Lisbon. Everything we need or want is within walking distance. We've been to a few awesome little restaurants. Kevin tried the local delicacy "franceschina" – a sandwich that should be on an episode of a Man vs. Food. We've been up and down the Ponte Luis bridge, both for exercise and to enjoy the views of the city and river down below. And of course, we've had some port wine!
We only stopped at one port house (so far) – Sandemans, one of the big exporters. We don't drink Sandemans at home, but had read that their older tawnies were some of the best. We showed up hoping to do a tour, but we would have had to wait three hours for the next one…so we just took a peek into the caves and headed to the tasting area, where we ordered a single glass of their oldest port they had to share. We've had 10, 20, and 30 year…but 40 year – that's older than us! It was really boozy at first (and with a 20% ABV, it should be!), but it mellowed out towards the end. And it was tasty. Really tasty. Are you listening, Santa?