I'd Tell You The Recipe, But Then I'd Have To Kill You – Green Bamboo Cooking School – Hoi An, Vietnam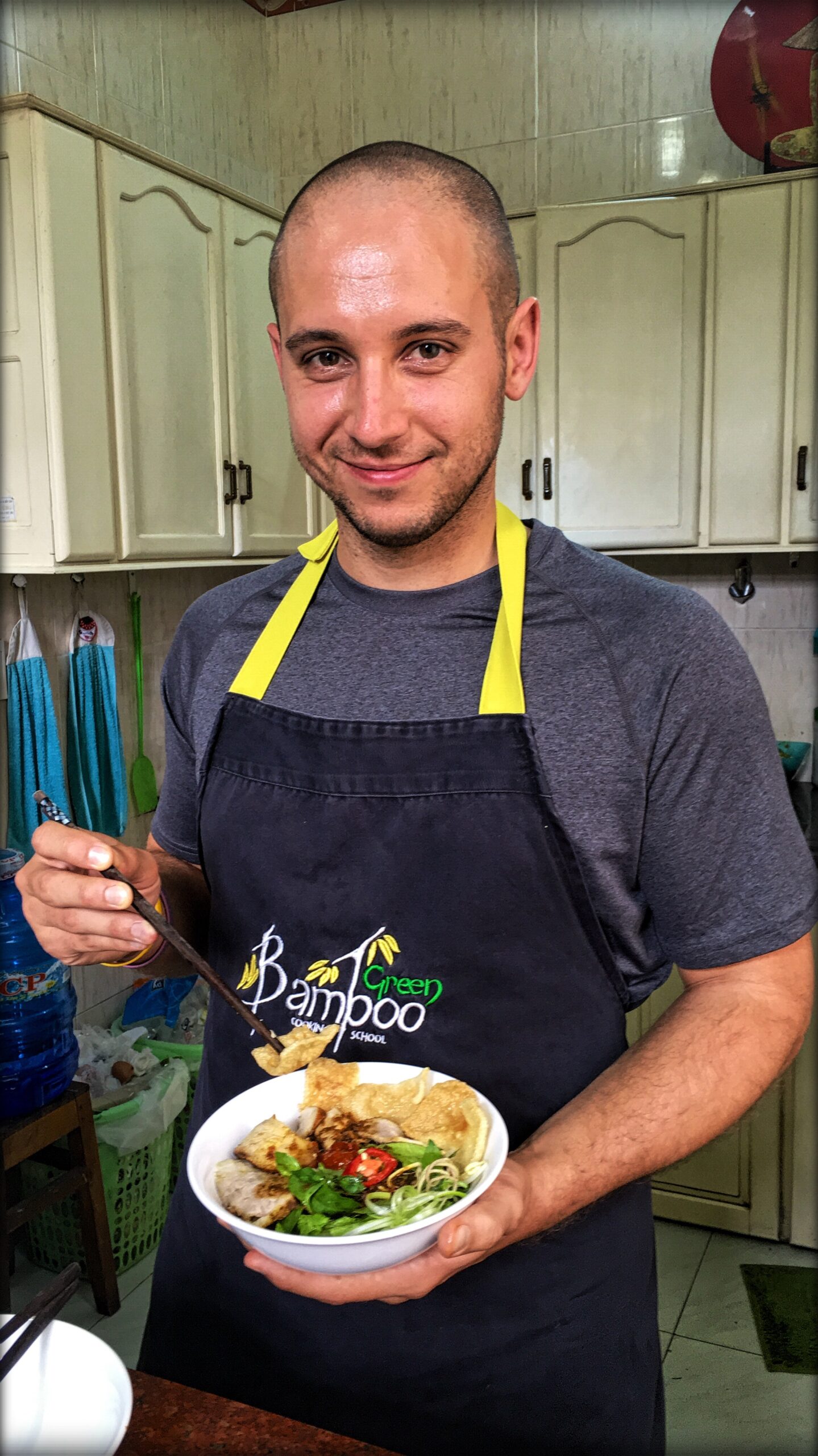 Another day, another cooking class! Hoi An is the place for hands-on Vietnamese cooking lessons. A formal class isn't even a requirement here; if you like what you're eating, you can kindly ask the chef who prepared it to show you how it was done, and they'll usually be happy to take you right into the kitchen. You might not understand a word that they're saying to you, but you're sure to learn something!
We signed up for a small group cooking class here, because one class just wasn't enough. This one was quite different than our experience in Saigon. It was an all-day affair, starting at the wet market in the morning, followed by 5 hours of cooking, eating, drinking, laughing, and learning.
Our chef-instructor Van picked us up at 8am (in a van, no pun intended), and with 10 other students in tow, we dived into Hoi An's central market at its peak morning hour to buy every single fresh ingredient required for each of the 12 dishes we would be cooking (each student got to pick one from a list of 60), excluding the most basic necessities like cooking oil. By Western standards, what goes on in a wet market appears to be completely unsanitary. There are cuts of raw meat laying out on table tops, dead chickens hanging by their feet inches from the floor, fish being butchered on tables, unknown liquids puddling on the floor. But that's not the case at all. What's on display in the market is about as fresh as it gets. The animals are killed and butchered just hours before being brought to the market; the fish are caught overnight and brought directly there by boat. Even the herbs and vegetables were just harvested, and get cleaned as they're sold. Nothing is more than a few hours old. Flies and strange smells are absent. Really understanding how just-in-time the market operates made us even more excited to cook.
After the market, we headed to Van's home kitchen for the remainder of the day. You would think this would be a logistical mess, with 12 people and one chef trying to cook 12 dishes at once. But Van was amazing. She had it down to a science. We started out huddled around a large prep table, each student prepping the meat, herbs and veggies for their respective dish. The prep for our dishes was very easy – had we known that we got to do 100% of the work, we would have chosen more complex dishes! One girl picked a stuffed squid dish, so her prep involved cleaning a whole squid, ink sack, beak, wings and all. It was still very informative for us to watch and learn.
Christine picked a vegetarian curry (of course), something we could easily replicate back home. The curry required coconut milk, and everything was made fresh, so guess what – we made coconut milk by hand! This involved pouring coconut water into a bowl of fresh coconut meat flakes (both purchased at the market), adding some hot water, then hand mixing and pressing the milk out of the flakes. The milk tasted delicious, and the wet flakes were tasty too!
After all prep was done, Van walked us through each dish one by one. The student who picked the dish would do the cooking while everyone else huddled around with beers watching. When the dish was done, we would serve it up, eat it, then move right on to the next one. Needless to say, we were all full about 4 dishes in, but everything was so good we couldn't turn it down.
Kevin picked Cao Lau, a dish that can only be had in Hoi An due to a noodle whose recipe is shrouded in secrecy. As the story goes, the noodles are made with water from one well in the area, and ashes from one island in the area. Only a few families who are descendants of the original recipe continue to make the noodles and sell them at the market. They're thick and chewy like udon noodles, but that's where the similarities end. The dish itself is quintessentially Asian: the perfect harmony of chewy noodles, blanched bean sprouts, fresh crispy lettuce and herbs, thin slices of Chinese style barbecued pork (with a generous spoonful of drippings), a slice of chili pepper for heat, a squirt of fresh kumquat juice for acid, and the crunch of some just fried Cao Lau noodle strips, referred to as croutons.
With our bellies full of food and minds full of knowledge, (and as a bonus, a free recipe book and two pairs of cooking chopsticks!), we went home and slipped into a food coma for the next 14 hours. We woke up today with a true appreciation for Vietnamese food.