When The Sun Goes Down – Mowies On The Beach – Gili Air, Indonesia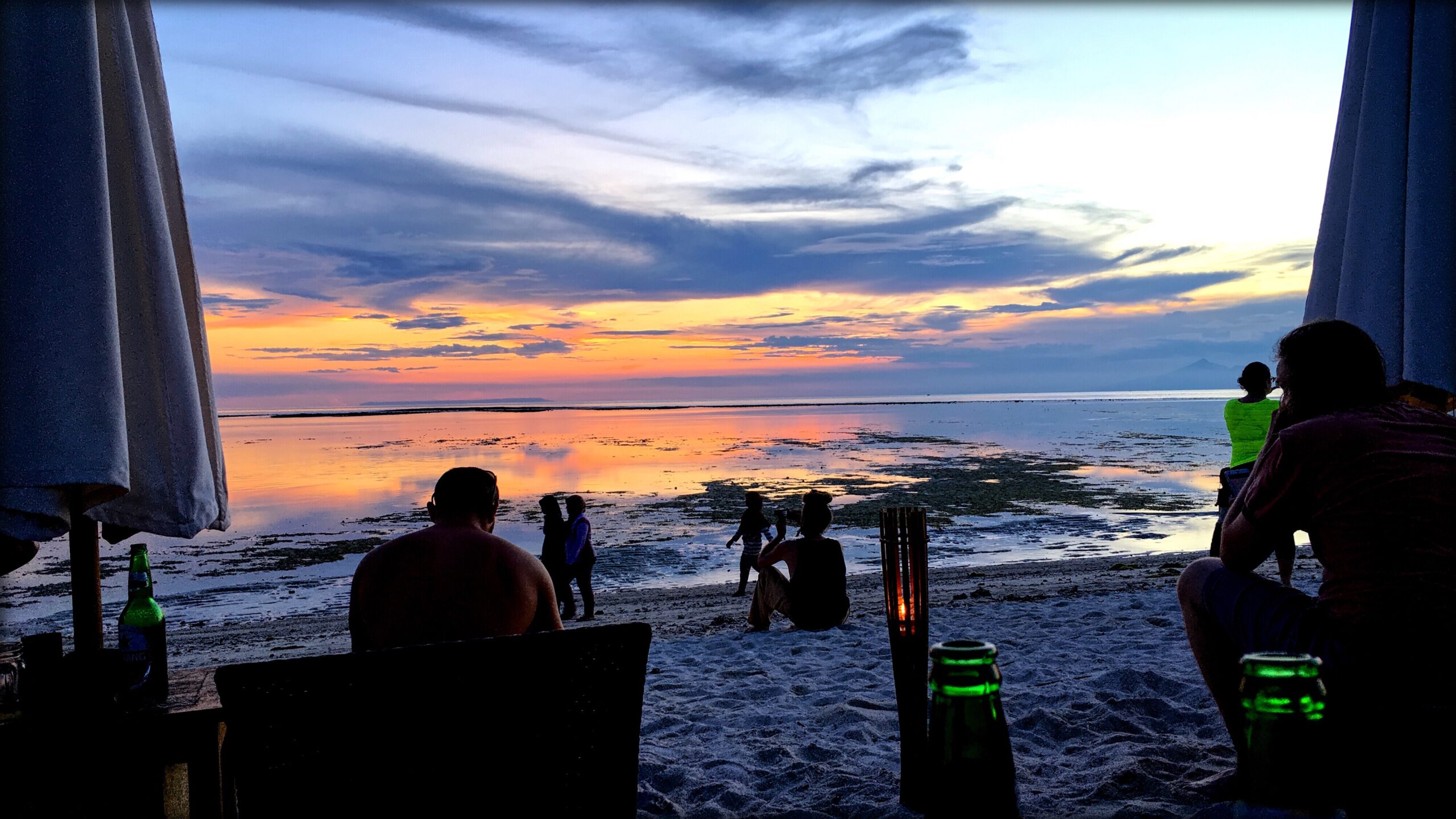 Just a few minutes walk down the road, Mowies has become our go-to spot to hang out in the evenings. They have it all: beach space, bean bag chairs, Bintangs, coconuts, decent food, an eclectic crowd (sitting on the beach there in front of us is a man with a dreadlock bun), and the best spot to watch the sun set over the mountains of Bali in the distance.
The sun setting seems to be a ritualistic part of island life. As we leave our villa in the late afternoon, the housekeeping staff says "enjoy the sunset"! And we're clearly not the only ones with this idea. By dusk, every seat at Mowies is taken, and then some. We're all there to enjoy the show that mother nature puts on, and last night the show was spectacular.
There's a big shallow lagoon on this side of the island that's protected by a sandbar about a quarter of a mile off the coast. This makes for good snorkeling and swimming during the day. When the tide starts to go out in the afternoon, waves stop breaking into the lagoon and depending on the amount of wind, it can create a mirror effect for the sky. Last night the conditions were ideal – there was a complete lack of wind, and a colorful sunset that vividly reflected off of the lagoon below. As the sun crept down and the sky changed colors, it just kept getting better and better. This is a ritual that we can get used to.
After dark, when the tide is fully out, the water level in the lagoon goes down to just a few inches. This is when the locals come out with flashlights and nets, looking for fish that have become trapped in the low water. Does this count as fishing? We're not sure, but it's fun to watch over a few Bintangs.