It's Gonna Be A Bright Sun-shiny Day – Ao Man Sai Beach – Ko Rok Nok, Thailand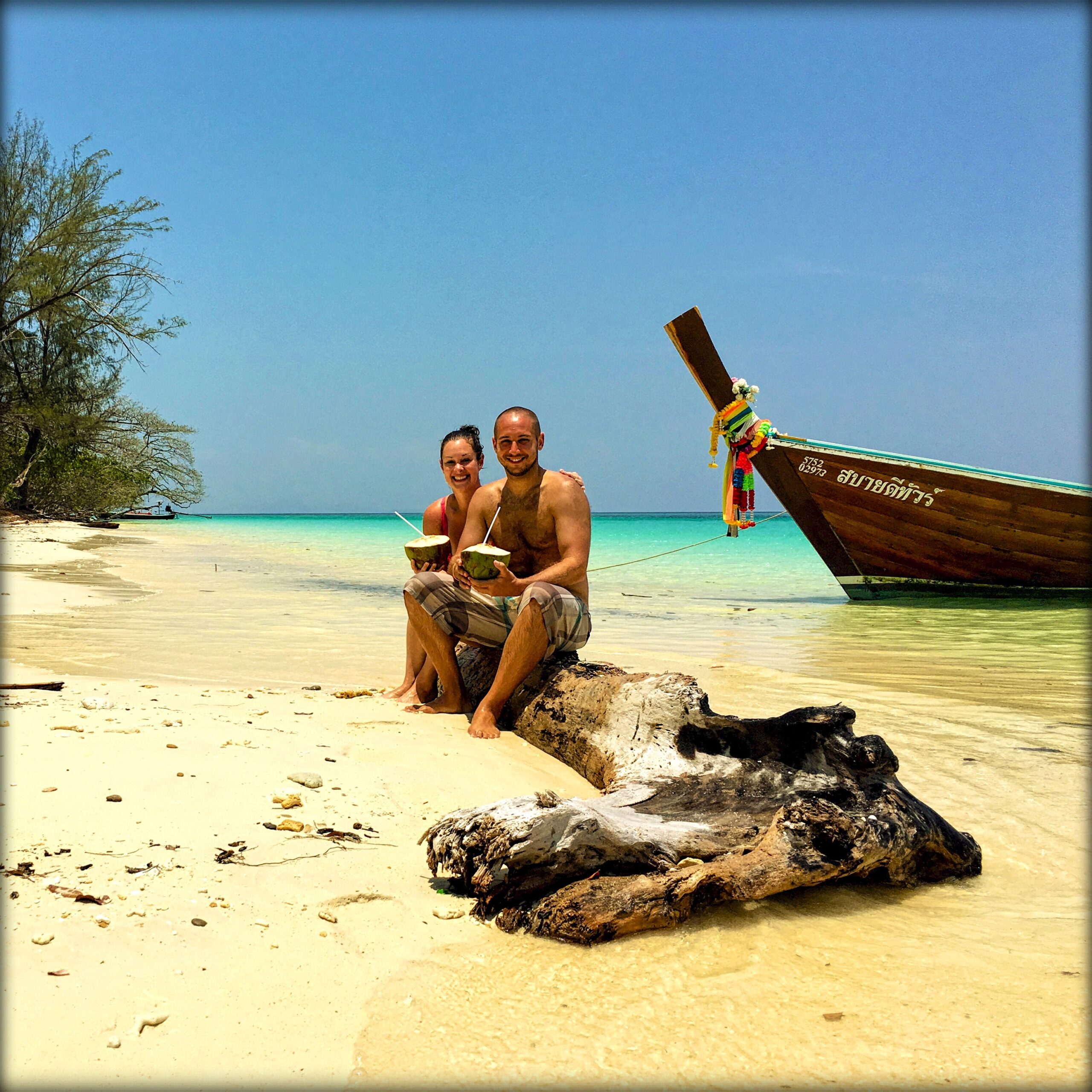 There is only one word to describe yesterday – AMAZING. We hired a private long tail boat to take us south into the Andaman Sea to Rok Nok Island and Rok Nai Island, a.k.a. the Ko Rok Islands. From the minute our tour started, until the very end, everything was perfect.
Our day started with a ride in a traditional Ko Lanta taxi – the back of a pickup truck with seats mounted to the sides of the bed. That taxi ride alone could have made our day. Riding in the open air, looking at the beautiful scenery with the wind in our hair (well, Christine's hair, Kevin is a little short in the hair department), and the sun on our backs was so much fun. We couldn't help but smile and enjoy every bump and turn.
We pulled up to the beach as Beau and Bow, our guides for the day, were arriving in their long tail boat. We waded out into the ocean, climbed aboard the boat, and set off on a two hour journey to the Ko Rok Islands. As we approached the islands, we were amazed at how beautiful they were. The waters were crystal clear, the islands were lucious green, and the coast was covered in long white sand beaches. We're sure these islands are featured on many, many postcards. The only inhabitants are park rangers, so the area is completely unspoiled.
We first ventured on to Rok Nok Island in search of a monitor lizard, which we found rather quickly. Not too far from shore was a big sucker, about 4 feet long, hiding in the shade. After some pictures, we headed straight for the beach and into the water. All we wanted to do was get in the water…it was so inviting. The sand was soft, the water was warm, clear, fairly deep and jelly fish free! We floated around for a bit before getting back in the boat in search of a good snorkeling spot. We headed back out, anchored off the coast of Rok Nai Island, and got right back in the water with our snorkeling gear.
Just a few minutes in, we spotted a large gray and black polka dotted fish which we followed around for a while. Turns out he was a map pufferfish…Christine was hoping it was a baby whale shark. The coral here was pretty and there were lots of colorful fish swimming around us. Beau, our guide, went snorkeling with us. He would dive down and bring up creatures for us to see up close before returning them to where he found them.
We eventually anchored on an empty beach for lunch – green curry with shrimp (the best shrimp ever!) and pickled calamari with vegetables. After lunch Bow surprised us with some cold coconuts, which didn't last long. We stayed at this beach for a while to swim around and enjoy the water. We pretty much had the whole area to ourselves. There was a family of four, with the same tour company but different boat about 1/4 mile away, but aside from them, there was nobody. We can honestly say that we never thought we would get to have an experience like this. A secluded beach, in paradise, all to ourselves.
Beau and Bow were awesome guides. They tried their best to avoid crowds, which they did very well. Most of the time it felt like it was just us out there. It also helped that there weren't too many crowds to avoid in the first place. This area is pretty far south, so not as many people venture out. They're crazy not to, though!
As if we needed one more reason why this day was awesome…Christine removed her bandage for the very last time! She is all healed. We can now throw away all of the medical supplies that have been weighing down our bags for the last month. Woohoo!
Life is good.