To The Left – Grand Anse – La Digue, Seychelles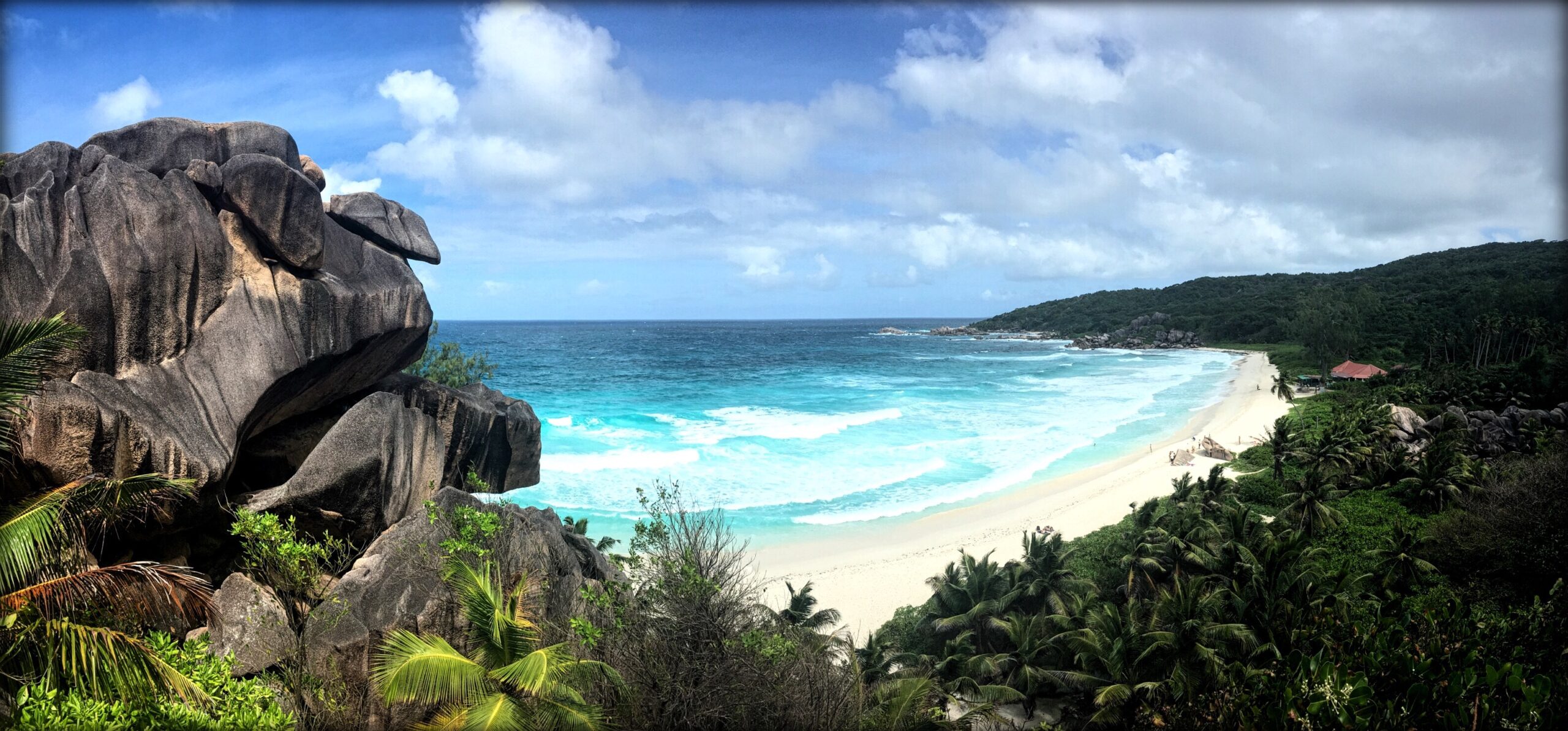 Having gone to the right yesterday, the mission for today was clear – to the left! We hopped on our bikes and headed straight to Anse Source d'Argent, recently voted one of the world's most beautiful beaches. The beach was indeed beautiful, with crystal clear waters and those granite rocks jutting up from the sea. The rocks had eroded, which created little passageways to walk through or climb over to get further down the beach. This was certainly a gorgeous beach, but not the best in the world, in our opinion anyway. There were very few areas to lay out. It's more of a place for picture taking, and there was plenty of that – some Chinese tourists were dressed up like mermaids and having their pictures taken laying on rocks. This is also a great beach for kite surfing. We stayed here for a bit – Kevin climbed some rocks (this must be his thing these days) while Christine watched kite surfers get chased by eager, playful dogs. On the way out, we had a serious feeding session at a big pen full of giant tortoises.
We continued our journey left, up and over the one hill in the middle of the island, through the woods until we reached Grand Anse Beach. Now this beach was stunning – it was a big stretch of white sand with clear blue water and some serious waves (rumor has it they're good for surfing). There were big signs warning about the strong currents. Just one look at those waves and we were convinced that we would be ok enjoying the water from afar while sipping on a coconut.
A short hike over a rocky point took us to Petit Anse Beach, which was just as pretty as its big sister, but with less people. The picture was taken on the hike – Kevin risked life and death to climb a big rock at the top of the point to get the perfect shot. We were hot and sweaty from biking all day, so we decided to be brave and ignore those warning signs to cool off in the water. We only went in waist deep but we still took a beating. They weren't joking about the currents!
Now that we've been to both the left and right, there's only one direction remaining…out. It's time to move on to a new island!