Dos…Fartons? – Horchateria De Santa Catalina – Valencia, Spain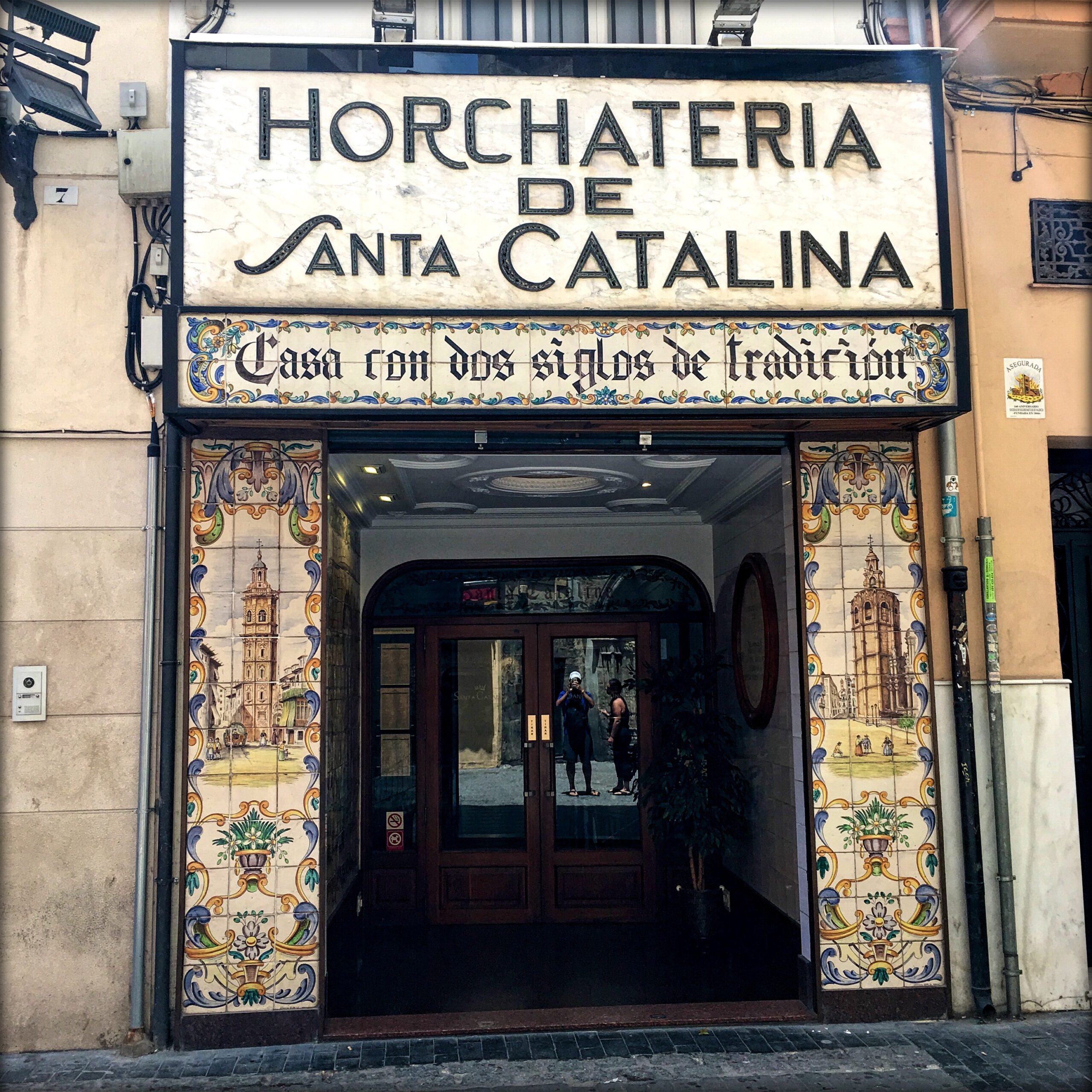 Over the last two days, we've been busy exploring the narrow streets of old town Valencia. It's a beautiful place, full of culture, history, and character. On the first day, we embraced the Spanish lifestyle; we sat outside at a cafe and had a two and a half hour, multi-course lunch, complete with paella and sangria. We were stuffed…and we now understand why the siesta is necessary. Yesterday, we switched things up and rented bikes so we could explore more of the city.
We biked the Jardines Del Turía – a long stretch of what used to be a river, which is now an urban garden with a system of trails. The garden passes by the city's main museums and monuments. We rode the trail from end to end, and when we reached the end, we took to the streets and headed to the beach. It looked and felt strangely similar to the jersey shore, but with infinitely more people. Imagine that so many people showed up to Wildwood that the beach was full all the way from the water to the boardwalk. It was that full.
All of that biking made us hungry, so we stopped for a typical Valencia snack – horchata and fartons. You read that right. Fartons.
Horchata is a sweet, milk-like drink made from tigernuts, water, and sugar. It's served ice cold in the summer, and is best had with a farton or two. What the heck is a farton? It's a delicate, spongy pastry, elongated, glazed with sugar; essentially made just to be dipped into horchata.
Not ones to pass up an opportunity to try local foods, we searched for the most authentic horchata and ended up at the Horchateria de Santa Catalina. Most buildings in Valencia retain many of the old world design aspects that make them special, and this one was no exception. Both the outside and the inside of the store were intricately decorated with ceramic tiles. It was like being in an old school ice cream shop…in Spain.
Christine ordered us a round, hesitant to say fartons – surely she would pronounce it wrong. But no, it's pronounced exactly like it's spelled, but with a slight roll of the tongue on the "r." Once our order arrived, we dug right in.
The horchata had a very nutty flavor. It was cold and refreshing, but it wasn't our favorite. The fartons were also ok – Christine preferred them dunked in the horchata, while Kevin preferred his on their own. We're glad we tried this Valencian specialty – but we doubt we'll be back for another round. Although, Kevin keeps talking about ordering more fartons – it's probably more the name he enjoys than anything else.