En La Cocina – Plaça Reial – Barcelona, Spain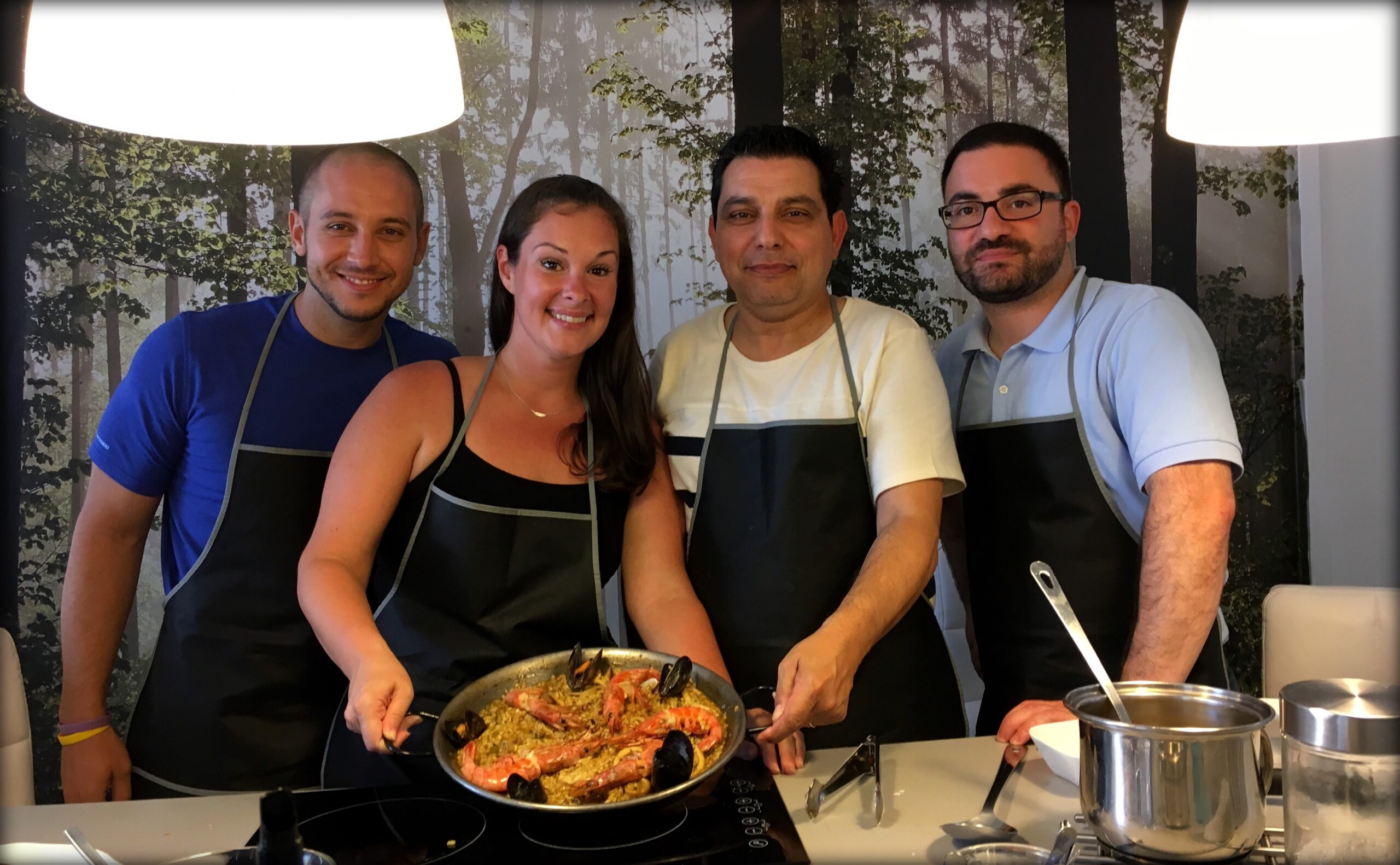 Another country, another cooking class!
Before we even arrived in Spain, we knew that we wanted to learn how to make some of our favorite tapas. We've tried at home, and they came out alright, but not good enough for us. We weren't going to pass up on the opportunity to pick the brain of a real Spanish chef, in Spain.
We ran the idea past Louis, another dinner party enthusiast, and of course he was game. We found a class that covered all of the recipes we were interested in, and then some. Reviews of the class mentioned free flowing wine…sold.
The class started with a tour of the Boqueria market, a popular market in the Gothic Quarter. It was a typical Spanish market – full of cured ham legs, fresh fruit and vegetables, cheese, meat, seafood, and tapas bars. Although it was still early in the day, Kevin couldn't pass up on slurping down one of the biggest raw oysters we've ever come across. Then it was back to the kitchen for three hours of drinking, cooking, and eating with chef Alfredo. We lucked out by being the only people who booked the class – it was just us, the chef, and his translator (an unexpected surprise for us was that Alfredo spoke very little English).
We learned about and tasted 12 tapas in total. Some of them were literally just a tasting – after all, there's not much to teach when it comes to putting slices of ham and cheese on a plate. Others, we made entirely from scratch – including tortilla española (our new favorite breakfast), mussels in a dipping sauce, Catalan cream, and seafood paella. We're still not sure if we're into paella or not, but it was a good learning experience, and this one turned out to be very, very tasty.
The class was informative, educational, and fun. The kitchen space was gorgeous – it was in a renovated convent overlooking Plaça Reial, a busy square in the Gothic Quarter. We learned about the history of each tapa, as many of them have origins in specific regions of Spain. Alfredo was easy going, and didn't mind our endless stream of side questions about Spanish culture and food.
Probably the best part of the class was the communication. Christine is fairly fluent in Spanish. Louis has at least a conversational grasp. Kevin is working at it, but he's not there yet. The translator did her best to keep up, but it quickly became an immersive language class, with Christine, Louis, and Alfredo talking entirely in Spanish. Kevin gave a lot of blank stares, and continued to practice the basics – "una cerveza, por favor!"