The Louis Experience – Park Güell – Barcelona, Spain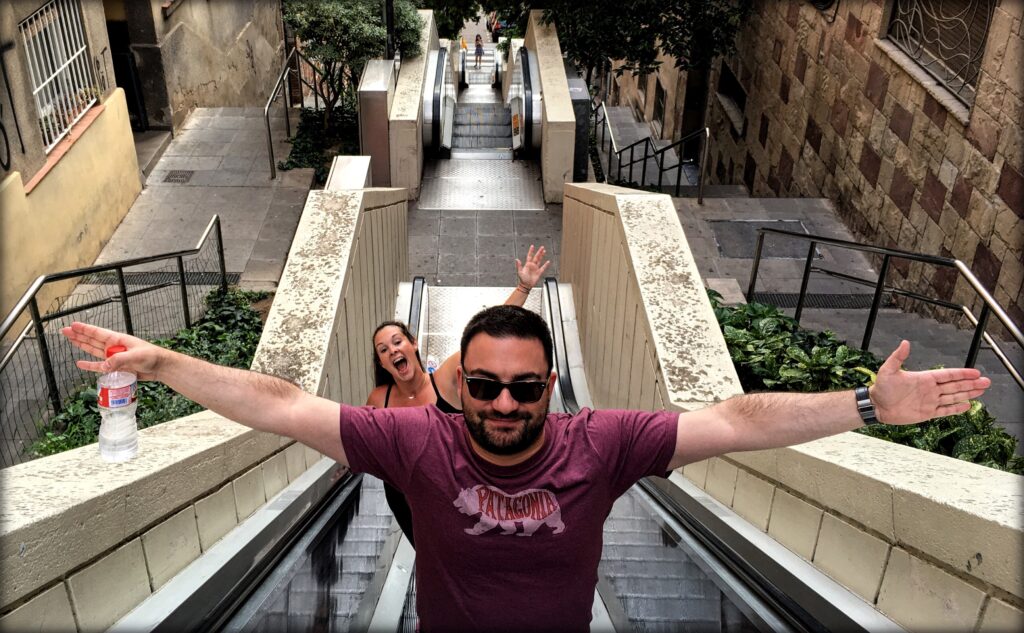 We've been in Spain for over a week now, and Louis has been here with us for three days. In this short amount of time, we've all adjusted to the relaxed Spanish way of life: go to bed late, wake up late.
After a late night of pincho bar hopping (and an even later night for Louis – he continued the party after the elderly two hit the sheets), we spent the better half of the day relaxing. Our first matter of business was sitting outside, sipping coffees and enjoying a breakfast of pan con tomate and tortilla española. This was followed by a trip to a bakery for breakfast round two – chocolate donuts. Then it was time for a siesta.
We had to do some sight-seeing, so we eventually got ready and headed downtown to visit the Jamon Experience, a.k.a. the ham experience. Spaniards really take their ham seriously. The Jamon Experience is an interactive museum that explains the process of how those cured ham legs come to be. After the tour, we got to taste six different types of cured ham. You would think a piece of ham is a piece of ham, but Ibérico ham is as complex as wine. The type of pig, it's diet, lineage and the curing process all factor into the quality of the finished product and at which price point it'll be sold. Each type of ham had a distinct flavor, with our favorites being the most expensive – well over $100 per pound. To get one of those ham legs in the US, it would be around $1,000. We also learned that cured ham is full of antioxidants and is actually good for your heart. While we think that this factoid is a stretch, we kept telling ourselves how healthy we were being as we sampled our ham and drank our beverages.
After the ham experience, we took a trip to Park Güell, a park designed by Antoni Gaudí. The picture was taken on a series of escalators that took us to the top of the park. The park is described as a "playground for the mind," with columns that simulate palm-tree trunks, rubble-surfaced arches that grow out of the ground, and quilts of ceramic tiles. We didn't go into the paid area to see the masterpieces up close, but we saw them from afar, and still got to enjoy panoramic views of Barcelona.
The sun stays out late here – by the time we left the park it was 8:30, but you'd never know it. We headed back to our neighborhood for a pincho and a glass of wine before calling it an early night…early being 10:30.